Neuro∑Logic
by Kyolic / Wakunaga
120 Capsules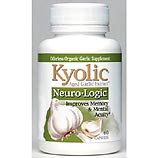 Regular Retail: $31.85
Our low price: $21.98
, 2 for
$42.81
, 6 for
$120.39
All Products by
Kyolic / Wakunaga
Item #: VBD027299
UPC: 023542354417
Description
Neuro∑Logic
is a highly advanced, preventive maintenance formula for your mind. The unique combination of ingredients has been carefully selected by Dr. David Perlmutter, the internationally recognized neurologist. Taken as directed, Neuro∑Logic offers powerful support for improved memory and mental acuity.
Neuro∑Logic contains phosphatidylserine, a cutting edge supplement which functions as a building block for neurons. It also includes acetyl-L-carnitine to increase energy to eliminate waste products from brain cells. Similarly, this formula contains Ginkgo biloba extract that has been studied for its ability to improve memory and sharpen mental function.
The human brainís dry composition is 30% lecithin. Bioavailable lecithin is vital to the brainís production of acetylcholine, a key neurotransmitter, and is an important ingredient of Neuro∑Logic.
KYOLIC Aged Garlic Extract is also included in Neuro∑Logic for its proven stimulation of vital neuron-protecting antioxidants and scientifically validated anti-aging effects on the entire body. No brain health formula could be complete without folic acid and vitamin B12. Together, these two vitamins are critical factors for the preservation of normal brain function.
Product Ingredients:
Aged Garlic Extract- Studies have suggested that Aged Garlic Extract and its constituents may improve memory and learning, enhance the growth of nerves and/or prolong their survival, and protect the brain from oxidative damage. Aged garlic extract may also help to improve survival, according to recent studies.
Choline- Studies have found that choline (from lecithin) is an important building block for all cell membranes and it may provide an essential part of the neurotransmitter (acetylcholine). By providing nutritional support for the neurovascular system, studies have suggested that choline may help to support memory and learning.
Ginkgo biloba- The Ginkgo biloba extract in Neuro∑Logic is a potent 50:1 standardized extract containing 24% ginkgo flavone glycosides and 6% terpene lactones. Studies have suggested that Ginkgo biloba Extract may enhance memory and cognitive function through stimulation of microcirculation and protect nerves from oxidative damage.
Carnitine- Carnitine is essential for fatty acid metabolism and for energy production. Acetyl-L-Carnitine may provide nutritional support for the nervous system, especially during stress and aging, and various conditions which induce neuronal damage.
Phosphatidylserine- Phosphatidylserine has been shown to improve memory in elderly persons in two multi-center studies and in various double-blind studies.
Folic acid- Folic acid is needed to make RNA an DNA which is vital to all cells. It is critical for the synthesis of red blood cells. A deficiency can cause mental confusion, anemia, and problems with nerve function. Studies suggest that folic acid may provide nutritional support for the proper development of the nervous system of embryos in their developmental stage, thus preventing neural tube defects.
Vitamin B12- Vitamin B12 is necessary for maintaining healthy blood cells and nerves and for releasing energy from fats and carbohydrates
Ingredients
2 capsules contain:
Folate (as folic acid): 200 mcg, Vitamin B12: 100 mcg, Aged Garlic Extract Powder (Allium sativum) (bulb): 400 mg, Lecithin: 200 mg, Ginkgo biloba Extract (leaf): 60 mg, Phosphatidylserine (30%): 50 mg, Acetyl-L-Carnitine: 25 mg,
Other Ingredients:
Gelatin, Cellulose, Silica and Magnesium Stearate (vegetable source).
Suggested Usage
As a dietary supplement, take two capsules with a meal twice daily.
Note:
Product image may vary in look, size, quantity and/or flavor. It should only be used as a reference. Please check with the manufacturer for the most up-to-date product information. Although we try very hard to keep the product information up-to-date, occasionally, the manufacturer changes the name and the packaging of a product without notice.