Cran-Logic
by Kyolic / Wakunaga
60 Capsules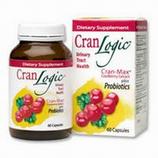 Regular Retail: $21.99
Our low price: $15.16
, 2 for
$29.52
, 6 for
$83.03
All Products by
Kyolic / Wakunaga
Item #: VBD033149
UPC: 023542359412
Description
Cran-Logic
is a combination of natural ingredients that promotes urinary tract and intestinal health. Taken regularly, it can help reduce the risk of bladder and yeast problems, as well as support healthy intestinal function and overall immune health.
What makes Cran-Logic unique?
Cran-Logic is the only product that offers the unique combination of Cran-Max® cranberry extract and Kyo-Dophilus® probiotics. These proprietary ingredients have been clinically studied and found to be beneficial for the urinary tract, intestinal function, and many other aspects of health.
Cran-Logic is made from 100% cranberry fruit solids through a process that intensifies the natural benefits of the whole cranberry, without the use of any solvents, preservatives, sugars, water, flavorings or color.
Cran-Logic contains the power of the full cranberry and utilizes a patented Bio-Shield® Technology that protects the cranberry from destruction by gastric acid, allowing it to be absorbed through the intestinal wall.
Cran-Logic contains three essential probiotic strains. They are heat and acid resistant, stable at room temperature, guaranteed potency through expiration, dairy free, and made with human strains which allow for ideal implantation in the intestine.
How does Cran-Logic work?
Cran-Logic promotes a healthy urinary tract by reducing the risk of bladder and yeast problems. Since bad bacteria that cause urinary tract issues live in the intestines, the cranberry extract in Cran-Logic prevents the growth and adherence of these bad bacteria, while the probiotics maintain healthy intestinal function. Clinical studies have confirmed the value of cranberry and probiotics for bladder and intestinal health.
Cran-Logic also replenishes your normal intestinal micro-flora. The balance of flora can be upset due to antibiotic usage, poor diet, exposure to harmful bacteria, travel to foreign countries and even stress.
Cran-Logic also offers a number of other benefits: it can inhibit the harmful toxins that bad bacteria produce; counter the adverse effects of medications; produce essential vitamins and enzymes that are vital for health; and improve overall intestinal function.
Who should take Cran-Logic?
Cran-Logic is ideal for those wishing to promote bladder and intestinal health. It is particularly beneficial for those who suffer with recurrent bladder and yeast issues, those taking medications (current or past), and those who have other intestinal problems.
Ingredients
2 capsules Contain:
Cranberry Extract (Cran-Max® 34:1): 1000 mg; Proprietary Blend (L. acidophilus KS-13, B. bifidum G9-1 and B. longum MM-2): 2 billion cells
Other Ingrdients: Gelatin, potato starch, silica and magnesium stearate. Contains soy. FREE of preservatives, sugar, sodium, milk, yeast, gluten, artificial colors and flavors.
Suggested Usage
Take two capsules daily with a meal preferably with a full glass of water. For best results, drink plenty of water each day.
Note:
Product image may vary in look, size, quantity and/or flavor. It should only be used as a reference. Please check with the manufacturer for the most up-to-date product information. Although we try very hard to keep the product information up-to-date, occasionally, the manufacturer changes the name and the packaging of a product without notice.