Tropical Plus
by Tropical Oasis
Multiple Vitamin Mineral Formula, 32 oz Liquid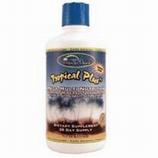 Regular Retail: $35.95
Our low price: $20.13
, 2 for
$39.20
, 6 for
$110.25
All Products by
Tropical Oasis
Item #: VBD021383
UPC: 617279334608
Description
Tropical Plus
- One of the most potent Multiple Vitamin/Mineral formulas on the market today. This great tasting formula has it's roots in our original Tropical Multiple Vitamin/Mineral formula with extra high potency for the most active adult lifestyle. Check out the supplement facts today and compare. Great Value!
Ingredients
Vitamin A (as palmitate)
Vitamin D (as ergocalciferol)
Vitamin E (as d-alpha tocopheryl acetate)
Vitamin C (as ascorbic acid)
Folate (as folic acid)
Vitamin B1 (as thiamin)
Vitamin B2 (as riboflavin)
Vitamin B3 (as niacinanide)
Vitamin B6 (as pyridoxine hcl)
Vitamin B12 (as cyanocabalamin)
Biotin
Pantothenic Acid (as calcium pantothenate)
Bioflavoniods (from citrus)
Inositol
PABA (para-aminobenzoic acid)
Choline (as bitatrate)
CoQ10
Grape Seed Extract
Quercetin
Colloidal Minerals
Calcium, Nickel, Celium, Tungsten, Praseodymium, Iron, Silicon, Chloride, Europium, Neodymium, Zinc, Boron, Platinum, Antimony, Titanium, Iodine, Lithium, Cesium, Ytterbium, Samarium, Phosphorus, Vanadium, Rubidium, Palladium, Nitrogen, Magnesium, Cobalt, Tellurium, Terbium, Thorium, Potassium, Sodium, Hafnium, Gadolinium, Hydrogen, Selenium, Niobium, Gold, Scandium, Yttrium, Copper, Barium, Titanium, Rhenium, Oxygen, Manganese, Berylium, Hotmum, Lutetium, Promethium, Silver, Osmium, Gallium, Dysprosium, Zirconium, Chromium, Sulfur, Strontium, Ruthenium, Neodymium, Tin, Bismuth, Lanthanum, Tantelum, Bromine, Molybderium, Carbon, Indium, Erbium, Fluoride
Amino Acids
Isoleucine, Leucine, Lysine, Methionine, Valine, Histidine, Arginine, Aspartic Acid Serine, Glutamic Acid, Proline, Glycine, Alanine, Tyrosine, Cysteine, Glutamine, Phenylalanine, Threonine, Tryptophan, Asparagine
Suggested Usage
As a dietary supplement take 1-2 teaspoons daily.
Note:
Product image may vary in look, size, quantity and/or flavor. It should only be used as a reference. Please check with the manufacturer for the most up-to-date product information. Although we try very hard to keep the product information up-to-date, occasionally, the manufacturer changes the name and the packaging of a product without notice.