Ionized Trace Minerals
by Tropical Oasis
16 oz Liquid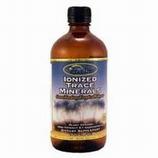 Regular Retail: $19.95
Our low price: $17.25
, 2 for
$33.60
, 6 for
$94.50
All Products by
Tropical Oasis
Item #: VBD020081
UPC: 617279334578
Description
Are you getting all of the essential minerals you need from your diet? The 1992 Earth Summit Report on mineral depletion rates of the owrld's farm and range soils points out that the earth's soils are anemic. Therefore the food crops grown on mineral deficient soils cannot have the vital nutrients you need. Plants cannot manufacture minerals; they must absorb them up from the soil in which they grow. How do you ge tthe colloidal minerals your body needs if the food you eat lacks them? Tropical Oasis's all natural plant derived colloidal minerals are extracted from prehistoric mineral deposits in the state of Utah.
Ingredients
1 tablespoon contains:
Colloidal Minerals: 1.12 ml
Zirconium, Hafnium, Nioblum, Nickel, Copper, Berylium, Potassium, Tantalum, Tungsten, Barium, Ruthenium, Osmium, Rhodium, Thallium, Indium, Palladium, Manganese, Silver, Gold, Scanidium, Yitrium, Lanthanum, Cerium, Praeseodymit, Europium ,Terbium, Samarium, Dysprosium, Holmium, Erbium, Thulium, Ytterbium Thorilum, Uranium, Iron, Cobalt, Hydrogen, Lithium, Sodium, Rubidium, Cesium, Zinc, Magnesium, Calcium, Molybdenum, Radium, Boron, Gallium, Indium, Rhenilum, Carbon, Silicon, Platinum, Tin, Nitrogen, Phosphorus, Antimony, Bismuth, Sulfer, Neodymium, Gadolinium, Selenium, Tellurium. Polonilum, Flouride, Chloride, Bromide, Titanium, Luteium, Vanadium, Chromium In a great tasting strawberry flavor.
Suggested Usage
Note:
Product image may vary in look, size, quantity and/or flavor. It should only be used as a reference. Please check with the manufacturer for the most up-to-date product information. Although we try very hard to keep the product information up-to-date, occasionally, the manufacturer changes the name and the packaging of a product without notice.