Stevia Extract
by Now Foods
Powder, 1 oz.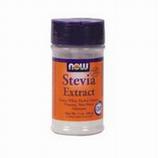 Regular Retail: $8.99
Our low price: $6.20
, 2 for
$12.07
, 6 for
$33.96
All Products by
Now Foods
Item #: NOW069603
UPC: 733739069603
Description
Stevia Extract
- Stevia rebaudiana is a natural herb that grows in Asia and South America. This supplement is a 100% pure concentrated extract of Stevia. South American natives have used Stevia for centuries; though it has just recently become popular in the United States. NOW® Stevia Extract is made with a high content and has a pleasant, non-bitter aftertaste.
Ingredients
Supplemental Facts
Serving Size: 1 Level Scoop
Servings Per Container: 622
Stevia Extract Powder (Stevia rebaudiana) (Leaf) 45 mg *
(min. 80% Glucosylsteviosides)
* Percent Daily Values are based on 2,000 calorie diet.
† Daily Value not established.
Free of: Stevia Extract is hypoallergenic and contains no sugar, salt, starch, yeast, wheat, gluten, corn, soy, milk, egg or preservatives.
Suggested Usage
As a dietary supplement, take 1/2 of a 1 level scoop as desired. Stevia rebaudiana can be mixed into hot water to dilute its intensity.
Additional Information
FAQ
Stevia rebaudiana FAQ's
What is Stevia rebaudiana?
Stevia is an herb indigenous to Paraguay and Brazil that grows 2--3 feet tall and resembles mint in appearance. The South American native Guarani Indians used this green "sweet herb" they called "kaa he-he" for centuries before a European botanist named M.S. Bertoni first learned of this unique plant from the native guides while exploring Paraguay in 1887. Though prior to the early 1900s Stevia was a plant harvested in the wild it soon thereafter was being grown in abundance on plantations.
Sometime between 1918 and 1921 the USDA was introduced to this wonderfully sweet herb but because of political and other interests Stevia was not accepted as a natural sweetener. The compounds in Stevia that give the herb its sweet taste called Steviosides were isolated by French scientists in 1931. Since the 1970s Japan has approved and used Stevia extracts as a sweetener in everything from ice cream to soft drinks.
Today in the USA our FDA still has not approved Stevia as a sweetener. However, since the Dietary Supplement Health and Education Act of 1994, they have approved it as a dietary supplement.
How is NOW's Stevia produced?
NOW's stevia extract is produced utilizing a patent-pending process which involves extracting from stevia leaves using only water and alcohol. The resulting extract is treated with a vegetarian-source enzyme (amylase) to reduce the licorice-like aftertaste of regular stevia extracts. The following are not used and not allowed: pesticides, fumigants, irradiation, other solvents, sulfur dioxide. There are no carriers or flow agents added to the extract other than what we claim on the label. The resulting extract contains no less than 80% Glucosylsteviosides as measured by HPLC testing.
The Stevia Glycerite liquid is now much thicker than it was. Why?
We have increased the percentage of Glycerine to help maintain the freshness of the product. Glycerine acts as a natural preservative, as well as having a nice sweet taste, but is low on the glycemic index listing (which shows how much certain foods affect blood sugar).
Should I be concerned that my Stevia Liquid Extract has become cloudy?
Stevia should not be cloudy and it is very rare for this to occur. This usually will occur due to some kind contamination:
1. Introduction of another interacting substance
2. Bacterial growth due to alcohol evaporation.
Please discard the product.
Note:
Product image may vary in look, size, quantity and/or flavor. It should only be used as a reference. Please check with the manufacturer for the most up-to-date product information. Although we try very hard to keep the product information up-to-date, occasionally, the manufacturer changes the name and the packaging of a product without notice.