Hawaiian Green Papaya
by Royal Tropics
150 Capsules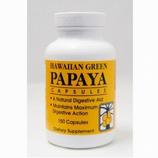 Regular Retail: $15.95
Our low price: $10.95
, 2 for
$21.32
, 6 for
$59.98
All Products by
Royal Tropics
Item #: VBD025244
UPC: 011092100264
Description
Hawaiian Green Papaya
has been revered traditionally as a healing agent. Green Papaya has a rich combination of two very important enzymes that break down proteins: Papain and Chymonpapain. As a supplement to one's regular diet, the enzymes facilitate very powerful digestive action. The enzymes are stable in the same range of acidity as the human gastric environment (1.0 to 1.8 pH).
Papain is a milky juice, which is found only in the green papaya fruit. Used internally, papain is very effective in the treatment of indigestion originating in the stomach or intestines. Papain transforms proteins into peptones, which are more easily absorbed into the bloodstream, thus facilitating protein assimilation and improving digestion.
In addition to the benefits as a digestive aid, evidence suggests that taking Green Papaya regularly can minimize the formation of ulcers in the human stomach. Further, it has been reported that physicians have successfully used Chymonpapain to aid in the healing and recovery of surgery patients.
Ingredients
Analisys (per 800 mg.)
Protein: 63 mg.
Fat: 17 mg.
Carboydrates: 555 mg.
Calories: 3
Iron: 54.4 mcg.
Calcium: 2,480 mcg.
Sodium: 701 mcg.
Potassium: 15,600 mcg.
Vitamin A: 15.9 IU.
Vitamin C: 21.6 mcg.
Niacin: 20.1 mcg.
Thiamin: 0.52 mcg.
Riboflavin: 6.39 mcg
* Milk Clotting Unit (approx. 560 MCU per teaspoon)
% of U.S. RDA is less than 2% of the following nutrients:
Protein, Vitamin A, Vitamin C, Niacin, Thiamine, Riboflavin, Calcium, Iron.
Testimonial
"Royal Tropics Green Papaya Capsules definitely work for me. I've had a long history of digestive inconsistency and these little green capsules have certainly helped me turn the corner."
-Alan Pearson, McCall, Idaho
Note:
Product image may vary in look, size, quantity and/or flavor. It should only be used as a reference. Please check with the manufacturer for the most up-to-date product information. Although we try very hard to keep the product information up-to-date, occasionally, the manufacturer changes the name and the packaging of a product without notice.