Kolla2 ImmuCell Collagen ll
by Molecule 2000 - Neocell Corporation
600 mg, 120 Capsules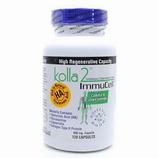 Regular Retail: $34.95
Our low price: $20.70
, 2 for
$40.32
, 6 for
$113.40
All Products by
Molecule 2000 - Neocell Corporation
Item #: VBD027496
UPC: 016185096578
Description
Kolla2 ImmuCell Collagen ll
600 mg is a naturally complete joint support supplement made with Kolla2 unhydrolyzed chicken sternal cartilage collagen type II, the most abundant structural protein found in joints. Laboratory tested to naturally contain collagen type II protein, glucosamine, chondroitin, and hyaluronic acid Naturally provides necessary components for maintaining healthy joints.
ImmuCell is collagen type ll (extracted from 100% pure chicken sternal cartilage) the most abundant structural protein found in joints. Books by physicians and medical journals report favorable scientific evidence that Chicken Sternal Cartilage Collagen Type ll is a safe, effective and natural food supplement.
We take great pleasure in announcing all natural Kolla2 food supplement, the proven treatment for the restoration and prevention of arthritic joint diseases. Kolla2 powder contains all the raw materials needed to maintain, protect and rebuild joint cartilage. An advanced process makes Kolla2 supplement more effective than any arthritis remedy on the market today. Clinical research conducted on Kolla2 provides evidence that a daily supplement of Kolla2 is a completely safe and extremely effective natural arthritis remedy for the millions of Americans suffering from debilitating joint problems. This tested formula is superior to any formula containing Glucosamine, Chondroitin and/or Hydrolyzed Protein derived from collagen.
One of every 3 Americans over the age of 60 suffers from Osteoarthritis; It is a natural wear and tear of our joint cartilage. As we age, the body's ability to make the protein Type II Collagen slows down. This is the protein needed to maintain and rebuild cartilage tissues. kolla2 is from Greek for glue. This is the protein that holds and keeps our joints healthy and functional. kolla2 is a nutritional dietary supplement for the treatment and prevention of arthritis, and is scientifically proven to restore and rebuild joint cartilage. It is much more effective than just the supplement of Glucosamine and Chondroitin. The composition of cartilage is more than 65% protein and about 30% carbohydrate. Advanced exclusive technology (patent pending) is used to extract the kolla2 from 100% pure avian sternum cartilage. It contains 65% collagen II protein that is a major component of cartilage, and naturally contains 30% carbohydrate (chondroitin & glucosamine). kolla2 powder is ready to be utilized after the body's superior natural enzymes break down the amino acid chain into the precise genetic code for joint cartilage repair. The protein extracted from 4 to 6 week old chick sternum cartilage yields healthy active cells. The natural lipids found in kolla2 together with proteins and carbohydrates constitute the chief structural components of joint cartilage cells.
Major universities, such as Boston University School of Medicine, Duke, MIT, Beth Israel Hospital and Harvard Medical School have conducted scientific medical research on bone and arthritis disease. These studies provide substantial clinical evidence that a daily supplement of chicken type II protein is the natural arthritis remedy for the millions of Americans suffering from debilitating joint problems. kolla2 is currently the subject of a major clinical trial to evaluate its long-term efficacy and prevention of Rheumatoid Arthritis and other joint diseases. Results will be published in JAMA and others medical journals.
Kolla2™ naturally consists of 70% chicken collagen type II protein and 30% mucopolysaccharides (hyaluronic acid (HA), glucosamine and chondroitin).
Ingredients
Kolla2™ chicken collagen type II protein, Lipids (fat), Hyaluronic Acid (HA), Glucosamine, Chondroitin
Other ingredients: gelatin capsule, vegetable magnesium stearate.
Suggested Usage
As a dietary supplement take four (4) to six (6) capsules daily with six (6) ounces of orange juice or vitamin C drink preferably in the morning
Note:
Product image may vary in look, size, quantity and/or flavor. It should only be used as a reference. Please check with the manufacturer for the most up-to-date product information. Although we try very hard to keep the product information up-to-date, occasionally, the manufacturer changes the name and the packaging of a product without notice.