Maxi Teen Supreme His Multi
by Maxi-Health Research
60 Capsules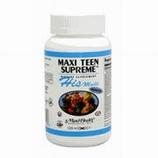 Regular Retail: $18.95
Our low price: $14.69
, 2 for
$28.60
, 6 for
$80.45
All Products by
Maxi-Health Research
Item #: VBD042963
UPC: 753406203062
Description
Maxi Teen Supreme His Multi
- complete multi Vitamin/Mineral for teenage boys: The teen years are a time of rapid growth and development demanding increased energy and nutrient requirements. At the same time, many children develop irregular and unhealthy eating habits, not getting the nutrients they need to stay healthy and grow. Teens care more about how they look than what they eat.
At this critical time, teens need to develop good habits of supplementing their diet with a good multi-vitamin. Adolescence is a time of rapid bone growth. Recent studies have documented the high prevalence of calcium and vitamin D deficiency in teens. This is attributed to low dairy and high caffeine intake. Teen vegetarians might miss much needed vitamin B-12 (found mainly in food that is derived from meat products). Teen girls need added iron to replenish the body with iron lost during menstrual periods. Teen boys need higher levels of zinc.
Maxi-Health Research Teen Formulas provide your teens with the basic nutrients they need to grow and develop properly, to fill in where their diet is poor and to give the parent one less thing to worry about. Not only will they get the basics but they have added some very special nutrients for your very special teen. Trace minerals such as selenium, for detoxification and antioxidant defense, copper, for healthy bone, collagen and nerve tissue, pantothenic acid for healthy metabolism and much more.
Ingredients
2 Capsules Contain:
Earthrise® Spirulina (Athrospira platensis) (microalage) Providing: Crude protein 55% (27.5 mg), Chlorophyll 0.9% (0.45 mg), Phycocyanin 9% (4.5 mg), Total carotenoids 0.37% (0.185 mg) 50 mg
Aloe vera powder (Aloe baradensis) (leaf): 10 mg
Barley grass powder (Hordeum vulgare) (aerial plant): 20 mg
Garlic powder (Allium saliva) (bulb): 10 mg
Broccoli powder (Brassica) (stems & buds): 10 mg
Spinach powder: 10 mg
Carrot powder (Daucus carota) (root): 10 mg
Other ingredients: Rice flour, vegetable cellulose, vegetable magnesium stearate, Enzymax® (calcium carbonate, bromelain, papain, lipase, amylase, protease, silica).
Suggested Usage
Note:
Product image may vary in look, size, quantity and/or flavor. It should only be used as a reference. Please check with the manufacturer for the most up-to-date product information. Although we try very hard to keep the product information up-to-date, occasionally, the manufacturer changes the name and the packaging of a product without notice.