Anabolic Amino 10,000
by Healthy 'N Fit
180 Tablets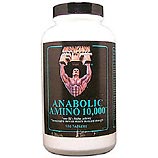 Regular Retail: $21.95
Our low price: $14.35
, 2 for
$27.96
, 6 for
$78.62
All Products by
Healthy 'N Fit
Item #: VBD024926
UPC: 799750000056
Description
Anabolic Amino Acids
is critical in human life an is particularly involved in stress, energy and muscle metabolism. Over 65% higher potency, formulated to increase muscle mass and strength. Pharmaceutical Grade free form and peptide bond amino acids, L-Configuration in correct proportions to promote anabolic activity. Anabolic Amino 10000 is formulated to increase muscle mass and strength in combination with intense training.
This product can aid in enhancing Protein Synthesis and PNB (positive nitrogen balance). Healthy 'N Fit Anabolic Amino 10000 is over 65% stronger than competing brands. Important - Some products available are poorly hydrolyzed casein, containing merely protein powder and little amino acid content. This product is independently tested and assayed to indicate the proportion of Free Form Amino Acids and DI and TRI Peptide Bond Amino Acids. It has tested to have a combination of amino acids which independent research has shown to be optimum. We add no additional L-Lysine or L-Ornithine. This would create an imbalance of amino acids which can reduce utilization of amino acids. This product does yield the correct proportion of L-Lysine. L-Ornithine is a very beneficial amino acids but should be taken separately. Anabolic Amino 10000 is by far one of the strongest free form and peptide bond amino acid products available. More importantly, it is a pancreatic digest of whey (lactalbumin) and egg albumen - The highest quality and most effective free form and peptide bond amino acid source known. Total tablet weight with natural excipients per 6 approximately 15000mgs. Total amino acid yield per 6 tablets - over 10000mgs. Some competing brands claim total tablet weight for potency. This is false and misleading. It takes approximately 15000mgs. per 6 tablets to yield 10000mgs. of amino acids. Natural inactive excipients in the tablet should not be counted in the tablet weight. This is a natural product - appearance may vary.
Ingredients
L-Alanine...595.8mg, L-Arginine...434mg, L-Aspartic Acid...984.7mg, L-Cystine...148.2mg, L-Glutamic Acid...1571.7mg, L-Glycine...946mg, L-Histidine...144mg, L-Isoleucine...490.2mg, L-Leucine...997.6mg, L-Lysine...738.2mg, L-Methionine...167.6mg, L-Phenylalannine...319.2mg, L-Proline...804.7mg, L-Senine...539.6mg, L-Threonine...549.9mg, L-Tryptophan-Natural (no synthetic L-Tryptophan)...103.1mg, L-Tyrosine...238.8mg, L-Valine...484.4mg Pharmaceutical Grade Free Form, Peptide Bond Amino Acids
Suggested Usage
3 tablets before breakfast and 3 tablets after training or before dinner, when training heavy or very frequently, one may wish to double the daily dosage for optimum results. Swallow tablets with liquid. Chewing tablet or allowing them to lay in your mouth may leave a bitter taste. This is a natural product, appearance may vary. Keep out of reach of children.
Note:
Product image may vary in look, size, quantity and/or flavor. It should only be used as a reference. Please check with the manufacturer for the most up-to-date product information. Although we try very hard to keep the product information up-to-date, occasionally, the manufacturer changes the name and the packaging of a product without notice.