Green Magma
by Green Foods
Dr. Hagiwara, Powdered Barley Grass Juice, USA, 5.3 oz Powder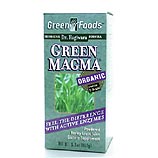 Regular Retail: $32.99
Our low price: $22.80
, 2 for
$44.42
, 6 for
$124.93
All Products by
Green Foods
Item #: VBD026588
UPC: 083851204315
Description
The Original Dr. Hagiwara's FORMULA
Powdered Barley Grass Juice Dietary Supplement Containing Active Enzymes, Antioxidants, Vitamins, Minerals, Amino Acids, Protein, and Chlorophyll.
Dr. Hagiwara's GREEN MAGMA
is a very nutritious, mildly alkaline powder made from organic young barley grass juice. Young barley grass contains perhaps the most balanced nutrient profile of all green plants with an abundance of vitamins, minerals, antioxidants, amino acids, proteins, active enzymes, and chlorophyll. Daily consumption of Green Magma will help provide your body with essential nutrients that promote the health and vitality of the entire body. After taking Green Magma daily for as little as 1 week, many people have reported feeling a dramatic increase in energy, better looking hair, skin, and nails, and increased regularity – all signs of good nutrition. Powdered Juice from Young Barley Leaves.
Yoshihide Hagiwara, M.D., was trained in modern pharmaceutical and medical techniques and used his brilliance to quickly build a leading pharmaceutical firm. However, at an early age, an unhealthy diet and exposure to laboratory chemicals nearly killed him. He then realized that the maintenance of a natural diet is very important. During his recovery, he vowed to devote his life and skills to finding the perfect food, a search that spanned nearly three decades. After experimenting with many plants, grasses and herbs, Dr. Hagiwara chose the juice of young green barley leaves as the best single source for balanced nutrients. By using his award-winning patented process, and multi-million dollar equipment, he was able to powder the juice while leaving nutrients intact.
Dr.Hagiwara has devoted his life to researching and developing his barley juice product, Green Magma, so that you may enjoy better health. These same techniques and efforts have gone into creating Dr. Hagiwara's Green Essence, Beta Carrot, and Wheat Germ Extract as well. Take advantage now, and may today be your first day to many happy and healthy tomorrows.
Ingredients
Supplement Facts
Serving Size 2 teaspoons (6 g)
Amount Per Serving %DV**
Total Calories 20 cal
Total Carbohydrate 4 g 1%
Protein 1 g 2%
Vitamin A 1500 IU 30%
(100% as beta carotene)
Vitamin C 9 mg 15%
Calcium 35 mg 4%
Iron 0.5 mg 2%
Sodium 52 mg 2%
Magnesium 12 mg 4%
Potassium 238 mg 6%
-----------------------------------------------
Chlorophyll 13 mg
-----------------------------------------------
* Percent Daily Values are based on a 2,000 calorie diet.
Daily Value not established.
Ingredients:
Powdered juice from organically-grown young barley grass
organic maltodextrin (a complex carbohydrate)
organic brown rice.

NON-GMO


Contains no added sugar, salt, colorings, or fillers. Free of animal products, gluten, soy, wheat and yeast.
Suggested Usage
Dissolve one teaspoon into 6 oz. cold water or non-acidic juice as a supplemental beverage. (Do not take with hot liquids/foods). Recommended 2-3 times daily on an empty stomach.
Additional Information
Testimonials

Dragan Radovic, Founder and President of Fitness 4 x 4
As a fitness professional and educator for most of my adult life, I have always been interested in peak physical conditioning and sound health. My many years of personal experience in fitness and observation of my numerous clients have provided me with a deep understanding of the keys to health, vitality and longevity.

In my younger years I aspired to maintain a reasonable level of fitness to carry me through middle age and beyond, but I never expected to reach my peak physical condition at 50 years of age! My current accomplishment of exceeding one thousand squats or 35-lb. dumbbell lifts in one non-stop session would have been inconceivable at any earlier st

Note:
Product image may vary in look, size, quantity and/or flavor. It should only be used as a reference. Please check with the manufacturer for the most up-to-date product information. Although we try very hard to keep the product information up-to-date, occasionally, the manufacturer changes the name and the packaging of a product without notice.