Barley Cat
by Green Foods
3 oz Powder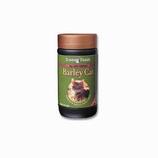 Regular Retail: $16.09
Our low price: $11.09
, 2 for
$21.59
, 6 for
$60.73
All Products by
Green Foods
Item #: VBD026587
UPC: 083851408362
Description
Barley Cat
is a barley grass supplement that promotes healthy skin and healthy coat with enzymes, vitamins C and E, B1, B2, B3, B6, protein, amino acids, and trace minerals that help eliminate bad breath, improve digestion, restore energy levels, boost immune function, repel fleas and ticks and provide antioxidant protection.
Contrary to popular belief, a cat grazes on grass not because of an upset stomach or to help remove hairballs, but due to the fact it's looking for the same raw nutrition enjoyed by its healthy and strong ancestors in the wild (it's the sharp, microscopic barbs on grass that reportedly causes internal agitation and vomiting). Experts say cats (and dogs as well) instinctively eat grass to get the active, live nutrients needed by their system for optimum health and performance.
Help your furry friend get what it needs naturally with Barley Cat, made from fresh barley grass-grown without pesticides or chemical fertilizers, poultry, liver, nutritional yeast, brown rice, taurine and garlic. Barley Cat isn't designed to stop your pet from grazing in all cases, but it will provide what attracts him or her to grass and potentially toxic houseplants in the first place.
Ingredients
Powdered Juice from Young Barley Grass
Maltodextrin
Sodium Acid Pyrophosphate
Hydrolyzed Poultry Liver
Dried Yeast
Ground Brown Rice
Lactose
Taurine
Soybean Oil
Garlic
Mixed Tocopherols
Suggested Usage
Mix with, or on top of, wet or dry food. If desired, make a paste with water and powder before applying to dry food. Use 1/4 teaspoon for an adult cat (slightly less for kittens) once or twice daily.
Additional Information
Testimonials


Dear GreenFoods,
"My wife and I have two beautiful affectionate cats, which we love dearly. Naturally, we spoil them rotten and give them the best of everything. We have given our "babies" Barley Cat since they were six weeks old. They love the taste and we love what it does for them. They have really healthy digestion, which is very important for us because they are indoor only cats. Also, they have silky soft coats, and never have a sign of "kitty breath." Almost two years later I am happy to say they have grown up to become true Barley Cats. Thanks!"

Mike Wawryk, Lucy and Conan
Las Vegas, Nevada


Dear GreenFoods:
Barley Cat is an excellent product and I highly recommend it! Nearly two years ago, our indoor, one-year old yellow male cat, Toby, suddenly became listless. Once a happy little cat, he suddenly took on a sad demeanor and would not eat his food.
Since he had received a "clean bill of health" at the vet's just a few months before, I decided to try Barley Cat. I had seen it at the health food store the week before, and decided to buy some and sprinkle a little on his dry cat food. Soon after eating his food, Toby became his happy self again, full of energy! Now, Toby will only eat his food if I sprinkle it with his "sauce" Barley Cat. He loves it!! By the way, Toby has always eaten feline food purchased at the vet's - so the quality of his food was not a problem! Thank you for Barley Cat, it gave my cat his energy back!
Sincerely,
Cristina Randolph,
Tyler, Texas
Note:
Product image may vary in look, size, quantity and/or flavor. It should only be used as a reference. Please check with the manufacturer for the most up-to-date product information. Although we try very hard to keep the product information up-to-date, occasionally, the manufacturer changes the name and the packaging of a product without notice.