Liquid Vitamin C
by Dynamic Health Labs
1000 mg, 8 oz Liquid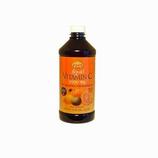 Regular Retail: $8.29
Our low price: $4.19
, 2 for
$8.15
, 6 for
$22.93
All Products by
Dynamic Health Labs
Item #: VBD024443
UPC: 790223100402
Description
Liquid Vitamin C
-
In the 65 years since its discovery, vitamin C has come to be known as a "wonder worker." It's easy to see why: In addition to its role in collagen formation and other life-sustaining functions, vitamin C serves as a key immune system nutrient and a potent free-radical fighter. This double-duty nutrient has been shown to prevent many illnesses, from everyday ailments such as the common cold to devastating diseases such as cancer.
Vitamin C helps some of our most important body systems. First and foremost, it helps the immune system to fight off foreign invaders and tumor cells. Vitamin C also supports the cardiovascular system by facilitating fat metabolism and protecting tissues from free radical damage, and it assists the nervous system by converting certain amino acids into neurotransmitters.
The skin, teeth and bones also benefit from vitamin C's collagen-forming and invader-resisting properties; this vitamin contributes to the maintenance of healthy bones, the prevention of periodontal disease and the healing of wounds.
Antioxidant Functions: Polysaccharides enhance cell-mediated and T-cell immune responses. Polysaccharides were also related to treat efficiently hypertension, gastrointestinal disorders and periodontal disease.
Immune System Functions: Vitamin C can enhance the body's resistance to an assortment of diseases, including infectious disorders and many types of cancer. It strengthens and protects the immune system by stimulating the activity of antibodies and immune system cells such as phagocytes and neutrophils
Other Processes: Vitamin C contributes to a variety of other biochemical functions. These include the biosynthesis of the amino acid carnitine and the catecholamines that regulate the nervous system. It also helps the body to absorb iron and to break down histamine, the inflammatory component of many allergic reactions.
Ingredients
Supplement Facts
Serving Size 1 Tbsp.
Servings Per Container 32
Amount Per Serving % DV
Calories 23
Total Fat 0g 0%
Saturated Fat 0g 0%
Cholesterol 0 mg. 0%
Sodium 0 mg. 0%
Total Carohydrate 5g 2%
Sugars 1g
Protein 0g
Vitamin C.(Ascorbic Acid and Calcium Ascorbate) 1000 mg. 1667%
Calcium(from Calcium Ascorbate) 94 mg. 9%
Lemon Bioflavonoids 1000 mg. *
Rose Hips 1000 mg. *
Rutin 33 mg. *
Hesperidin 33 mg. *
Acerola 17 mg. *
*Daily value not established.
Ingredients:
Calcium(from Calcium Ascorbate)
Lemon
Bioflavonoids
Rose Hips
Rutin
Hesperidin
Acerola
Food Sensitivity: Free of
wheat
yeast
corn
soy
or milk.
No sugar or salt added.
No artificial colors or preservatives.
Warning: Keep this product out of reach of children.
Suggested Usage
As a dietary supplement, take 1 tablespoon daily or as directed. Also, may be mixed with your choice of beverage or juice.

Note:
Product image may vary in look, size, quantity and/or flavor. It should only be used as a reference. Please check with the manufacturer for the most up-to-date product information. Although we try very hard to keep the product information up-to-date, occasionally, the manufacturer changes the name and the packaging of a product without notice.