Frosted 150W
by Chromalux Light Bulbs
Light Bulb, 1 Bulb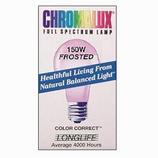 Regular Retail: $7.49
Our low price: $5.82
, 2 for
$11.33
, 6 for
$31.88
All Products by
Chromalux Light Bulbs
Item #: VBD025518
UPC: 738041111507
Description
Frosted 150W Light Bulb
- Chromalux Light Bulbs are long-life light bulbs that offer full spectrum lighting, which closely imitates natural daylight, reduces yellow glare, increases black and white contrast, improves readability, lessens eye strain, and helps promote a sense of well-being. The Pure Light From Scandinavia To See And Feel Better! The Chromalux bulb has its origin in Finland, Land of the Midnight Sun, where life must be sustained in almost total darkness for a few months of the year. Extensive research and testing there, resulted in the design of this unique light source which closely simulates natural daylight.
Bright and Vibrant Colors:
Chromalux Lamps are made of pure Neodymium glass which cuts down much of the yellow emission of the spectrum, resulting in brighter and more vibrant colors. Chromalux creates a pleasing, colorful and relaxing atmosphere that has shown to enhance people's sense of comfort and well being. At home natural colors of fabrics and home appointments can finally be enjoyed. In the kitchen or the dining room, food looks more appetizing and in the bathroom, natural skin complexions are pleasantly revealed. A must for the home and office!
A Superior Reading Light: Chromalux , by reducing the excessive yellow glare light (located in the center of the spectrum, 550nm), allows the eye to see with great ease throughout the entire visible spectrum. Chromalux glare-free light increases black and white , contrasts, improves readability, and reduces eye strain allowing optimum visual comfort. Much more gentle to your eyes than common incandescent lamps or quartz illumination. Easy to install, it can successfully retrofit existing fixtures (table lamps and recessed lighting, etc.). People who have made the switch have enjoyed the striking difference.
Chromalux High quality and Performance: Manufactured in Europe to the highest standards, Chromalux is long life (3500 hours average) and has a heavy duty filament construction to enhance life expectancy and performance. In addition, among other features, Chromalux bulb is built with a real silver inner reflector to increase lumen output and a chromed brass socket to prevent corrosion.
Chromalux Spectral Distribution CurveWHERE TO USE CHROMALUX FULLSPECTRUM LAMPS At Home:
Our inability to perceive colors and textures adequately as in the case of a grey winter day or under poor artificial lighting has shown to impair our mood and feeling of comfort at home. Under Chromalux pure white illumination, the atmosphere is instantly transformed becoming friendly and welcoming. Chromalux offers a wide selection of types and wattages to fit the user's specific need.
In The Office:
Precision and efficiency at work mainly depend on the visual comfort provided by overhead and task lighting. Chromalux full spectrum lamps reduce eye fatigue, increase visual acuity, reduce glare of computer screens and provide working areas with a pleasing and stimulating atmosphere. Chromalux creates a glare free color balanced environment that has shown to help people work more efficiently. Ideal for computer working stations.
For Display Lighting:
Chromalux pure white light simply mimics Natural Daylight, and therefore its applications in the display and commercial lighting are endless. Chromalux is today's ideal alternate choice to quartz and fluorescent illumination which provide a much cooler ambiance, and can be successfully used for display and environmental illumination of all kinds: Jewelry stores, food stores, restaurants, health and fitness centers, hair salons, etc.)
Ingredients
Glass
Suggested Usage
Note:
Product image may vary in look, size, quantity and/or flavor. It should only be used as a reference. Please check with the manufacturer for the most up-to-date product information. Although we try very hard to keep the product information up-to-date, occasionally, the manufacturer changes the name and the packaging of a product without notice.