Bitter Melon Tea
by Charantea
Ampalaya, 30 Tea Bags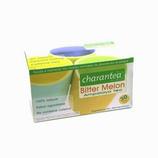 Regular Retail: $13.95
Our low price: $12.25
, 2 for
$23.86
, 6 for
$67.10
All Products by
Charantea
Item #: VBD032027
UPC: 085101001026
Description
Bitter Melon Tea
- Charantea is a dietary supplement made from 100% dried fruits of the Ampalaya or Bitter Melon (Momordica charantia Linn.). A special dehydration process 'locks in' the Ampalaya's vital elements in every pack of Charantea, whether in tea or 500mg capsule form. Charantea is best taken to fortify a low-fat, high-fiber diet to maintain a normal blood sugar level.
Ingredients
In tea or capsule form, Charantea contains only 100% dried Ampalaya fruits, ground into different levels of fineness. Charantea is all-natural, and caffeine-free.
Suggested Usage
For best results, drink a cup of Charantea Ampalaya Tea after every meal, three times a day. With regular daily use, you can see the results in your blood sugar in as little as two weeks to one month.
Additional Information
Testimonials
Remarkably effective
"I've been using Bitter Melon tea for over two years now, and I'm very happy how it helps me manage my blood sugar level. I saw a Korean doctor in the Philippines who recommended the Bitter Melon tea, which I can easily prepare and started to drink every day. After a month I started to feel better and my blood sugar stays normal. I now make sure to never miss drinking the tea. I bring it with me, in my car, in my office, wherever I need it."
-Kim Yu Sik, a Korean trader who lives in the Philippines
Blood sugar balance
"I feel so balanced now; my moods and energy used to be so out of control but now I feel great! I have so much energy and my stress level has decreased dramatically."
-John Murray, Vice President of Finance, Citigroup
New York City
Bitter Melon benefits
"The Ampalaya or Bitter Melon is known for its various health benefits, most of which have been scientifically proven. It mainly helps maintain normal blood sugar levels, helps balance insulin levels, and promotes circulation among others."
-Dr. Otfried Weise, author, "Ampalaya—A Vegetable for Diabetes and Acne"
Regaining an active life and more
"I was always tired before because of diabetes. After regularly drinking Charantea, I started feeling revived. I feel as active as before I got diabetes."
-Dr. Helga Stadler-Richter
Measurable benefit
"Charantea helps me manage my blood sugar level naturally. I take it with me on all my climbs."
-Geri Winkler, type-1, attempts to be first diabetic to finish climbing world's
highest peaks
General well-being and better bowel movement
"I am not diabetic, but I tried Ampalaya tea because of health problems associated to my being overweight. After trying the tea for the first two months, I already felt a general well being. I have better bowel movement and sleep better now. Also, the uncomfortable pressure I felt before in my stomach and intestines is gone."
-Ernst Mahl, 72, retired
Note:
Product image may vary in look, size, quantity and/or flavor. It should only be used as a reference. Please check with the manufacturer for the most up-to-date product information. Although we try very hard to keep the product information up-to-date, occasionally, the manufacturer changes the name and the packaging of a product without notice.