Trace Minerals
by World Organic
16 oz Liquid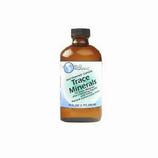 Regular Retail: $12.50
Our low price: $8.72
, 2 for
$16.98
, 6 for
$47.75
All Products by
World Organic
Item #: VBD018335
UPC: 726899553136
Description
World Organic Colloidal, Trace Minerals
is a unique, fully soluble, liquid mineral supplement made from the soils of an ancient seabed. World Organic then dissolves these precious nutrients into crystal clear, fresh water. We then add a healthy dose of 10 exceptional Herbs; each one containing unique nutrients so often missing in the daily diet.
We further blend 18 Amino Acid Chelating Agents to enhance the absorption of the minerals. This scientifically formulated liquid uses a special process which enhances othomolecular absorption. We have developed this delicious taste without any sugar (sucrose). We use only sorbitol and natural lemon lime flavors. This product is sold as a nutritional supplement only. Any claims, written or oral, regarding the advantages of this product are neither endorsed nor approved by World Organic.
Ingredients
Supplemental Facts
Serving Size: 1 oz.
Amount Per Serving:
Magnesium - 100mg, 25%;
Calcium - 25mg, 2.5%;
Potassium - 15mg;
Zinc - 15mg, 100%;
Manganese - 5mg;
Silica - 1100mcg;
Selenium - 50mcg;
Chromium - 50mcg;
Vitamin B-12 - 1000mcg, 16667%;
Biotin - 200mcg, 66.7%;
Plus 72 Polycolloidal Minerals (Including Aluminum (Approx 1.7ppm);
Antimony; Arsenic (Approx 0.1ppm);
Barium; Beryllium; Bismuth; Boron; Bromine; Cadmium; Cerium; Cesium; Chloride; Cobalt; Copper; Dysprosium; Erbium; Europium; Flouride; Gadolinium; Gallium; Germanium; Gold; Hafnium; Holmium; Indium; Iodine; Iridium; Iron; Lanthanum; Lead (0.05ppm); Lithium; Lutetium; Mercury (0.09ppm); Molybdenum; Neodymium; Osmium; Palladium; Phosphorus; Platinum; Praseodymium; Rhenium; Rhodium; Rubidium; Ruthenium; Samarium; Scandium; Silver; Sodium; Strontium; Sulfur; Tantalum; Tellurium; Terbium; Thalium; Thorium; Thulium; Tin; Titanium; Tungsten; Vanadium; Ytterbium; Yttrium Zirconium.


Other Ingredients:
Purified Water; Sorbitol; Magnesium Complex (Citrate; Gluconate; Sulfate); Polycolloid Minerals (Calcium Sulfate; Diatomaceous Earth); Citric Acid; Calcium Complex (Citrate; Levulinate); Natural Flavor; Zinc Complex (Gluconate; Citrate); Sodium Benzoate (As A Preservative); Caramel Color; Manganese Complex (Citrate; Sulfate); Potassium Complex (Gluconate; Citrate; Chloride); Sodium Metasilicate; Cyanocobalamin; Chromium Complex (Picolinate; Chloride); Biotin; Selenium Complex (Selenomethionine; Sodium Selenite).
Suggested Usage
Adults take 1 oz. Daily or as directed by your health care professional. Children one teaspoon daily for every 20 pounds of body weight, not to exceed one ounce. Mix or follow with an 8 oz. glass of water. For nutritional use only. Discontinue use if allergic reaction occurs.
Note:
Product image may vary in look, size, quantity and/or flavor. It should only be used as a reference. Please check with the manufacturer for the most up-to-date product information. Although we try very hard to keep the product information up-to-date, occasionally, the manufacturer changes the name and the packaging of a product without notice.