Sportea Iced Tea
by Sportea
7 Qt Size Tea Bags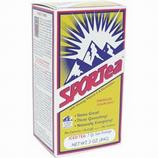 Regular Retail: $7.29
Our low price: $6.31
, 6 for
$36.29
All Products by
Sportea
Item #: VBD017569
UPC: 077826123312
Description
Sportea Iced Tea
is a gourmet, nutritious cold tea fortified with Siberian ginseng trace minerals, and vitamin C to boost stamina and energy.
Sportea Iced Tea is ultimate daily beverage.
1. Award Winning: Named Colorado's Best -a hearty, satisfying taste plus important daily nutrients and health promoting botanicals.
2. Nutritious: daily replenishment of Vitamin C & Electrolytes, plus nourishment from Siberian Ginseng-a potent superfood used daily by Olympic athletes.
3. Natural Energizer: invigorating-a boost of energy, but no sugar or caffeine let-down (decaff equivalent less than 2% caffeine) fights fatigue, promotes mental alertness, builds stamina, sustaining.
4. Stress Fighter: replenishes potassium and trace minerals depleted during physical and mental stress. Soothing, circulation enhancing (ginger) and a bodily systems endurance builder (siberian ginseng).
5. Thirst Quencher: absolutely clean and refreshing, no undesirables, no sugar, no artificial sweeteners, no salt, no calories & no aftertaste, Lite, Delicious, Sustaining.
6. Distinctive Flavor: a premium blend of rare teas, herbs and spices like soothing ginger, plus naturally derived citrus flavorings, a bold Citrus Sweet taste with a zip, Stimulating.
7. Quality Packaging: a protective outer wrap and Super-Fresh resealable pouch reflects our commitment to purity and long term potency of this premium tea.
Sportea Iced Tea energy is an enhanced performance energy. SporTea makes you feel good because it helps your body operate more efficiently. It is endurance building and long lasting. It's like putting a premium grade oil in your car, no new parts but the existing parts work more efficiently, they last longer, and you get better gas mileage.
Sportea Iced Tea has ginger which enhances circulation; potassium to help relieve stress by relaxing tense muscles; no aftertaste so your thirst is really quenched; a full daily dose of Vitamin C to fight colds, plus trace minerals/electrolytes to replenish bodily systems; only traces of caffeine, which in this quantity will positively stimulate the nerve endings but will not overload you; and the world's finest Siberian Ginseng, a systems adaptogen that revitalizes you and helps your body operate more productively. So, physically, you feel better, more energized & more mentally alert throughout the day. DeCaff equivalent 98% caffeine-free naturally without processing. All natural, Citrus Sweet, SporTea is packed full of rare teas, herbs, and spices so that in combination, Sportea Iced Tea fights fatigue, boosts energy, and builds stamina.
Ingredients
A blend of Black and Green Teas, Siberian Ginseng (eleuthero), Ginger, Matte, Vitamin C (ascorbic acid), Natural Flavorings.
Suggested Usage
Iced: Using the Arctic Iced method, place one SPORTea Big-Bag into 1 quart of cold water, close container and refrigerate for at least four hours or overnight is great! Using the coffee brewer method, place one Big-Bag into the brew basket and run 1 qt. of water through the bag. Cool to room temperature and serve over ice. Do not refrigerate. Hot: For a hot cup of SPORTea microwave some of the iced batch or try our 2gm single serve bags too.
Note:
Product image may vary in look, size, quantity and/or flavor. It should only be used as a reference. Please check with the manufacturer for the most up-to-date product information. Although we try very hard to keep the product information up-to-date, occasionally, the manufacturer changes the name and the packaging of a product without notice.