Omega 3-6-9
by Now Foods
1000 mg, 100 Softgels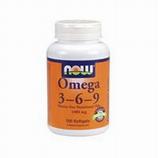 Regular Retail: $10.99
Our low price: $6.31
, 2 for
$12.30
, 6 for
$34.59
All Products by
Now Foods
Item #: NOW018359
UPC: 733739018359
Description
Omega 3-6-9
- While small percentages of essential fatty acids can be obtained from food, the majority of the population tends to consume far more of the saturated 'bad' fats than essential 'good' fats (Omega-3 and -6). NOW Omega 3-6-9 is an ideally balanced, full-spectrum source of these three "good fats". By utilizing high potency Omega-3 from flaxseed and canola, Omega-6 from primrose and black currant and Omega-9 (or Oleic acid, a non-essential fatty acid) from Canola and Flax, our formula helps correct this common imbalance, while minimizing any chance of reoccurring reverse imbalances.*
From the FDA's website: "Consumption of omega-3 fatty acids may reduce the risk of coronary heart disease. FDA evaluated the data and determined that, although there is scientific evidence supporting the claim, the evidence is not conclusive (see nutrition information for fat content)".
Ingredients
Supplemenal Facts
Servings Per Container: 50
Serving Size: 2 Softgels
Calories 20
Calories from fat 20
Total Fat 2 g 3%*
Saturated Fat <0.5 g 2%*
Polyunsaturated Fat 1.5 g †
Monounsaturated Fat <0.5 g †
Cholesterol 0 mg 0%
Flax Seed Oil (cold pressed, organic) 1,400 mg †
Evening Primrose Oil (cold pressed) (Oenothera biennis) (seed) 300 mg †
Canola Oil (cold pressed) 260 mg †
Black Currant Oil (Ribes Nigrum seed) 20 mg †
Pumpkin Seed Oil (Curcubita pepo seed) 20 mg †
* Percent Daily Values are based on 2,000 calorie diet.
† Daily Value not established.
Other Ingredients: Gelatin, Glycerin, Water, Carob
Suggested Usage
As a dietary supplement, take 2 softgels 1 to 3 times daily with meals.
Additional Information
FAQ
Omega-3 FAQ's
What is Omega-3 and what is it good for?
Omega-3 is an essential fatty acid (EFA), also known as a polyunsaturated fatty acid (PUFA). It is derived from both animal and plant sources, although Omega-3 from fish oil is the most common supplemental form. Fatty acids form the main useful fraction of fats and oils and are necessary for overall health. Because your body cannot manufacture essential fatty acids, you must get them from food or supplemental sources.
Plant sources such as Flax Oil contain the parent Omega-3 fatty acid called Alpha-linolenic acid (ALA). The human body normally converts ALA to the longer chain fatty acids EPA and DHA, which are used for prostaglandin formation and other cellular needs. Fish Oil contains the desired Omega-3 fatty acids in their more useful EPA and DHA forms. ALA requires enzymatic conversion to generate EPA and DHA.
Are the Omega-3 Fish Oils tested for EPA/DHA and Cholesterol; as well as Peroxide Value, Mercury, PCBs, Dioxins, and other contaminants?
Yes. Independent laboratories have tested our Omega-3 Fish Oil products for these and other active constituents and contaminants. Our Omega-3 Fish Oils meet or exceed safety standards set by the FDA, the state of California and the CRN (Council for Responsible Nutrition) Monograph.
Is your New Omega-3 Fish Oil softgel pharmaceutical grade?
There is a lot of confusion caused by supplement distributors who claim to have a pharmaceutical grade Omega 3 Fish Oil. There is no such thing in the United States, as the official USP (United States Pharmacopeia) monograph that defines the testing specifications necessary to qualify Omega 3 Fish oils as pharmaceutical grade has never been published. Anyone claiming to have "pharmaceutical grade" fish oils is simply over-hyping their product by claiming to meet a non-existent standard. NOW does not claim this, as it is simply not possible.
However, there is a voluntary CRN (Council for Responsible Nutrition) monograph that is being utilized to define the specifications necessary to qualify a p
Note:
Product image may vary in look, size, quantity and/or flavor. It should only be used as a reference. Please check with the manufacturer for the most up-to-date product information. Although we try very hard to keep the product information up-to-date, occasionally, the manufacturer changes the name and the packaging of a product without notice.