Hot Stuff, Chocolate
by Hot Stuff
650 gm Powder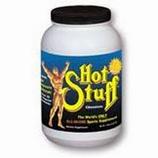 Regular Retail: $34.99
Our low price: $24.14
, 2 for
$47.02
, 6 for
$132.24
All Products by
Hot Stuff
Item #: VBD026880
UPC: 726932414172


Out Of Stock.
Description
Hot Stuff
is far and away the best dollar value on the market. Hot Stuff contains over 55 powerful anabolic and lipotropic potentiators. You name it and you'll find it in
Hot Stuff
. It is available in chocolate and banana flavors.
Hot Stuff, chocolate is a super supplement that combines just about everything you will ever need to build muscle size and strength in one product. Hot Stuff, Banana contains over 55 powerful anabolic and lipotropic potentiators. Things like Creatine, Pyruvate, Tribulus, Vanadyl Sulfate, Yohimbe, Chromium, BCAA's, Oriental Herbs and much more. In fact, each glass of HOT STUFF is the equivalent of taking over 55 separate pills.
Hot Stuff uses 100% Whey as its protein source. It is the world's only all-in-one sports supplement. It is a dietary supplement. Now it comes with: HMB, Pyruvate, Tribulus and over 55 other popular supplements. Over 10 years and STILL going strong! Perhaps the greatest thing about Hot Stuff is that it takes the mystery, guesswork and confusion out of using sports supplements. We' ve achieved this by combining just about every popular bodybuilding product into one delicious high protein super powder. In fact, a daily serving of Hot Stuff is the equivalent of taking over 100 pills. Yes, a whole new world of progress awaits you once you add Hot Stuff to your exercise training program. And once you cross over, you'll never go back. It is blended with Ion-Exchanged and Cross-Flow Microfiltered Whey Protein Concentrate and Whey Protein Isolate. It is enhanced with Glutamine Peptides and Branched Chain Amino Acids (BCAA' s). It is jam packed with oriental herbs, which are rich in antioxidants. It contains natural energy boosters. It is fortified with digestive enzymes. It is low in Lactose and having a great tasting. Mixes instantly by hand.
Ingredients
Vitamin B6 [as PAK(Pyridoxal alpha-ketoglutarate)], Vitamin C (as ascorbic acid), Vitamin E (as dl-alpha tocopheryl acetate), Calcium, Chromium (as Chelavate?), Magnesium (as magnesium carbonate), Potassium (as potassium chloride), Selenium (as selenomethionine), Zinc (as zinc aspartate); Ion-Exchanged and Cross-Flow Microfiltered Whey Protein Concentrate and Whey Protein Isolate, Fructose, Calcium Caseinate, All Natural Flavoring, **Hot Stuff Exclusive Protobolic? Base, Guar Gum, Stevia; Hot Stuff Exclusive Protobolic? Base: Guarana Seed, Branched Chain Amino Acids (Leucine, Isoleucine, Valine), Tribulus Terrestris, Creatine Monohydrate, Calcium Pyruvate, Siberian Ginseng Root, L-Glutamine Peptide, RNA/DNA Blend, Mexican Wild Yam, Saw Palmetto Berry, Smilax Root (sarsaparilla), Plant Phytosterol Complex (50% beta-sitosterol, 25% campesterol and 20% stigmasterol), Kola Nut, Yohimbe Bark, Wild Oats, Nettle Root, Licorice Root, Cinnamon Bark, Lycium Berry, Schizandra Berry, White Peony Root, American Ginseng Root, Orchic Substance, Ho-Shou-Wu Root, Codonopsis Root, Muira Puama Stem, L-Lysine, Yerba Mate, Suma Root, Digestive Enzyme Blend (Amylase, Protease, Lipase), Eucommia Bark, Epimedium Herb, Dendrobium Stem, Quebracho Bark, Cordyceps, Silica, Vanadyl Sulfate, Alpha-Lipoic Acid, Colostrum, Royal Jelly, Angelica Root, Astragalus Root, L-Carnitine, N-Acetyl L-Cysteine (NAC), Phosphatidyl Serine Complex, CoEnzyme Q10.
Suggested Usage
Mix 2 rounded scoops (65gm or 1/2 cup) of
Hot Stuff
, chocolate with 12 oz. of water (or beverage of your choice) as a dietary supplement. Best when consumed between meals or within one hour after exercise. For maximum results, take two 65gm servings daily. (This will yield 72gm of Protein).
Note:
Product image may vary in look, size, quantity and/or flavor. It should only be used as a reference. Please check with the manufacturer for the most up-to-date product information. Although we try very hard to keep the product information up-to-date, occasionally, the manufacturer changes the name and the packaging of a product without notice.