Shake'N'Zyme
by Dancing Paw
Vegetarian Enzyme Formula, 4.4 oz Powder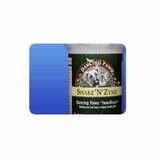 Regular Retail: $19.95
Our low price: $13.90
, 2 for
$27.08
, 6 for
$76.17
All Products by
Dancing Paw
Item #: VBD020004
UPC: 609852117081
Description
Dancing Paws Shake'N'Zyme
Vegetarian Enzyme Formula Pet Nutrient System Shake on food. Proper digestion is the foundation for superior health. Enzymes assist the body in properly digesting food and assimilating nutrients. Shake 'N' Zyme is an all-natural, Cheddar and Romano cheese flavored, vegetarian enzyme formula with a probiotics boost to help ensure optimum digestion, assimilation and utilization of nutrients. Our comprehensive, proprietary formula also includes organic dulse, a rich source of minerals, to help spark enzyme activity. In addition, Shake 'N' Zyme was designed to address inflammatory-irritable bowel conditions, dermatitis and colitis. With our convenient shaker, proper dosage and regular use for your pet will be as easy as spicing up your favorite dish.
A message from the vet: When pet foods are heat processed, as most are, enzyme concentration is significantly reduced. For this reason, adding digestive enzymes to your dog's food will enhance the absorption of nutrients. A high quality, broad spectrum supplement like Shake 'N' Zyme provides the required enzyme activity to help your pet achieve superior digestive health. With daily use, you should see marked improvement in the skin, coat and energy of your pet, and less gas formation (or flatulence) and improved consistency in the stool. -Dr. Nancy Scanlan, DVM.
Shake 'N Zyme is the ideal way to deliver daily enzyme supplementation necessary to promote proper digestion and nutrient absorption. Contains organic dulse, an edible sea vegetable found in the Atlantic Ocean, which is high in minerals and helps spark enzyme activity. Supports proper weight management. Human grade and vegetarian ingredients guaranteed. Great tasting, all-natural Cheddar and Romano cheese flavor and that your pet will enjoy. Certified organically grown and processed in accordance with the California Organic Foods Act of 1990.
Dancing Paws Philosophy: Our commitment is to provide a safe and effective Pet Nutrient System is to provide a safe and effective Pet Nutrient System that helps promote optimum health and longevity. Our pets are our family and trust us to provide the same quality products we demand for ourselves. We won't compromise; we use only the highest quality Human Grade ingredients and manufacture our products at human dietary supplement plants requiring frequent FDA and Human Food GMP approvals.
Holistic Approach: Our pet's chemistry is intricate and easily thrown out of balance. For that reason, we recommend using a quality pet food and thoughtful supplementation. Our team of renowned doctors and veterinarians have precisely identified the vitamins, minerals and botanical nutrients pets need. These nutrients are then perfectly and safely combined into the finest Pet Nutrient System on the market today.
Expert Care: Our Pet Nutrient System should be used in conjunction with expert veterinary care. We recommend consulting with a veterinarian who is familiar with the efficacy of complementary medicine, including nutritional supplements and remedies.
Our Guarantee: If you are not completely satisfied with this product, please return it with a proof of purchase for a full refund. All of our bottles are stamped with expiration dates for guaranteed freshness.
Ingredients
Cheddar Cheese
Romano Cheese
Organic Dulse
Plant Based Enzymes (see above)
Lactobacillus Acidophilus.
10000000 active lactobacillus acidophilus cultures
Protease...65oohut
Amylase...1312.5du
Lactase...130lacu
Lipase...107lut
Cellulase...94cu
Peptidase...75u
Maltase...62.5dp
Glucoamylase...3.375agu
Invertase...0.1iau.
Suggested Usage
Dogs & cats under 20 lbs: 2-3 shakes
dogs & cats 21-40 lbs: 3-4 shakes
dogs & cats 41-80 lbs: 5-6 shakes
dogs & cats 80+ lbs: 6-8 shakes.
Keep out of reach of children. Refrigerate after opening. This product is intended for intermittent or supple

Note:
Product image may vary in look, size, quantity and/or flavor. It should only be used as a reference. Please check with the manufacturer for the most up-to-date product information. Although we try very hard to keep the product information up-to-date, occasionally, the manufacturer changes the name and the packaging of a product without notice.