More Than A Multiple
by American Health
60 Duotabs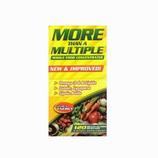 Regular Retail: $18.99
Our low price: $12.64
, 2 for
$24.62
, 6 for
$69.24
All Products by
American Health
Item #: VBD027001
UPC: 076630075527
Description
More than a Multiple
contains antioxidants, phytonutrients from whole food concentrates, lipotropic and enzyme factors, metabolites, amino acids and herbs in a two-stage delivery system; an immediate release of nutrients followed by a prolonged, sustained release. More Than A Multiple is a comprehensive nutritional supplement that offers more of the nutrients you need every day, including vitamins, minerals, enzyme factors, metabolites, amino acids, and herbs... with super antioxidants and active phytonutrients from energy-rich whole food concentrates. A more productive balance, with a state-of-the-art formulation that actually boosts the total nutrient value of the individual contents for maximum utilization by the body. A more effective delivery system that releases nutrients into the system in two stages, some instantly and others hours later, to extend the nutritional protection you're receiving. More Than A Multiple's exclusive Duotab delivery system is like two tablets in one! A fast-start, quick-release of a portion of the nutrients for instant cellular availability. A slower, sustained release of the remaining nutrients to extend their effectiveness in your system.
This ability to utilize nutrients both immediately and over a prolonged period of time is the result of the advanced technology that makes the Duotab (dual-action) formulation possible. Duotabs actually enhance the efficiency of More Than A Multiple's unique contents: a synergistically balanced combination of nutrient factors which include vitamins, minerals, enzyme factors, metabolites, amino acids, and herbs... plus super antioxidants and active phytonutrients from energy-rich whole food concentrates.
Ingredients
Supplement Facts
Serving Size 3 tablets
Amount Per Serving %Daily Value
Vitamin A (as Beta Carotene) 10,000 I.U. 200%
Vitamin C (as Ascorbic Acid) 500 mg 833%
Vitamin D (as Cholecalciferol) 400 I.U. 100%
Vitamin E 200 I.U. 667%
(as d-Alpha Tocopheryl Acid Succinate)
Thiamin 37.5 mg 2,500%
(Vitamin B-1) (as Thiamine Mononitrate)
Riboflavin (Vitamin B-2) 37.5 mg 2,206%
Niacin (as Niacinamide) 37.5 mg 188%
Vitamin B-6 37.5 mg 1,875%
(as Pyridoxine Hydrochloride)
Folic Acid 200 mcg 50%
Vitamin B-12 (as Cyanocobalamin) 37.5 mcg 625%
Biotin (as D-Biotin) 37.5 mcg 13%
Pantothenic Acid 37.5 mg 375%
(as D-Calcium Pantothenate)
Calcium 500 mg 50%
(as Calcium Carbonate, Calcium Citrate, Calcium
Fumarate, Calcium Ketoglutarate, Calcium Gluconate,
Calcium Aspartate, Calcium Ascorbate, Calcium
Histidinate, Calcium Malate and Calcium Succinate)
Iron 15 mg 83%
(as Ferrous Fumarate, Ferrous Amino Acid Chelate,
Ferrous Ketoglutarate, Ferrous Bisglycinate, Ferrous
Gluconate, Ferrous Aspartate, Ferrous Ascorbate,
Ferrous Citrate, Ferrous Histidinate, Ferrous Malate,
and Ferrous Succinate)
Iodine (from Kelp) 75 mcg 50%
Magnesium 250 mg 63%
(as Magnesium Oxide, Magnesium Citrate, Magnesium
Fumarate, Magnesium Ketoglutarate, Magnesium
Gluconate, Magnesium Aspartate, Magnesium
Ascorbate, Magnesium Histidinate, Magnesium Malate,
and Magnesium Succinate)
Zinc 15 mg 100%
(as Zinc Citrate, Zinc Fumarate, Zinc Picolinate,
Zinc Ketoglutarate, Zinc Monomethenomine, Zinc
Gluconate, Zinc Aspartate, Zinc Ascorbate, Zinc
Histidinate, Zinc Malate, and Zinc Succinate)
Selenium (as Selenomethionine) 50 mcg 71%
Copper (as Copper Gluconate) 1 mg 50%
Manganese 5 mg 250%
(as Manganese Gluconate, Manganese Amino
Acid Chelate, Manganese Citrate, Manganese
Aspartate, Manganese Ascorbate, Manganese
Histidinate, and Manganese Malate)
Chromium 50 mcg 42%
(as Chromium Picolinate)
Potassium 49.5 mg 1%
(as Potassium Citrate, Potassium Ketoglutarate,
Potassium Fumarate, Potassium Gluconate,
Potassium Aspartate, Potassium Ascorbate,
Potassium Histidinate, Potassium Malate, and
Potassium Succinate)
Bo
Note:
Product image may vary in look, size, quantity and/or flavor. It should only be used as a reference. Please check with the manufacturer for the most up-to-date product information. Although we try very hard to keep the product information up-to-date, occasionally, the manufacturer changes the name and the packaging of a product without notice.