Just Once Iron-Free Multivitamin
by Rainbow Light
30 Tablets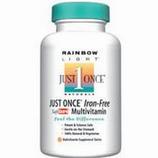 Regular Retail: $12.95
Our low price: $7.76
, 2 for
$15.12
, 6 for
$42.53
All Products by
Rainbow Light
Item #: VBD028704
UPC: 021888107018
Description
Just Once Iron-Free Multivitamin
is a once daily multiple providing essential vitamins and minerals, antioxidants, superfoods, and enzymes especially for men and post-menopausal women who normally do not require additional iron in their diet. It is a dietary supplement. It is once daily, advanced multinutrient food-based System with superfoods, enzymes and herbs.
Just Once Iron-Free Multivitamin is the most advanced one-tablet-a-day nutritional supplement available. It provides complete, balanced supplementation in a single, daily tablet. It is perfect for people whose diets already provide all the iron they need, such as most men and post-menopausal women. High potencies of beta-carotene, along with other antioxidants, including vitamin C and E, zinc and selenium. Essential minerals chelated with Krebs Cycle organic and amino acids together with GTF chromium, to support the body in sustaining balanced energy. All the vitamins the body needs to support vibrant health. A blend of superfoods, plant source enzymes and herbs, providing natural fuel for increased energy, and supporting easier digestion.
Ingredients
Each Tablet Provides:
Vitamin A 10,000 IU 200% (as Beta-Carotene), Vitamin C Ascorbic Acid, Magnesium Ascorbate) 200 mg 333%, Vitamin D 100 IU 25%, Vitamin E (d-alpha Tocopheryl Succinate) 60 IU 200%, Vitamin K (Phytonadione) 30 mcg 37%, Thiamin (vitamin B-1) 6 mg 400%, Riboflavin (vitamin B-2) 6 mg 353%, Niacinamide (vitamin B-3) 30 mg 150%, Pyridoxine (vitamin B-6) 6 mg 300%, Folic Acid 400 mcg 100%, Cyanocobalamin (vitamin B-12) 25 mcg 417%, Biotin 300 mcg 100%, Pantothenic Acid (vitamin B-5) 30 mg 300%, Calcium (Amino Acid Chelate) 30 mg 3%, Iodine (from kelp) 100 mcg 67%, Magnesium (Glycinate Ascorbate) 30 mg 7%, Zinc (Citrate, Monomethionine) 5 mg 33%, Selenium (Selenomethionate) 25 mcg 36%, Copper (Glycinate) 500 mg 25%, Manganese (Glycinate) 2.5 mg 125%, Chromium (Amino Nicotinate) 50 mcg 42%, Molybdenum (Aspartate) 12 mcg 16%, Potassium (Chloride, Citrate) 20 mg 1%, Boron (Citrate, Aspartate, Glycinate) 50 mcg, Vanadium (Vanadyl Sulfate) 8 mcg, Lemon Bioflavonoids 60 mg, Kelp Powder (Atlantic) 20 mg, Choline (Bitartrate) 15 mg, Inositol 15 mg, Rutin 15 mg, Hesperidin 10 mg, PABA (para-Aminobenzoic Acid) 5 mg
Food Enzyme Complex: Protease 332 HUT , Amylase 113 DU, Lipase 1 LU, Cellulase 1 CU, Apple Pectin 20 mg, Green Papaya 12 mg
Superfood and Herbal Ingredients: Spirulina 100 mg, Eluthero (Siberian Ginseng) [root} 75 mg, Tomato Paste Powder 40 mg, Ginkgo [leaf] 30 mg, Wheat Sprouts 20 mg, 4:1 Vegetable & Herb Extracts 20 mg, Horsetail [herb], Jujube [fruit], Carrots, Broccoli, Spinach, Parsley, Stinging Nettle [tops], Celery, Astragalus [root], Beets, Green Beans, Seaweed.
Other Ingredients: stearic acid (vegetable), modified cellulose, microcrystalline cellulose, silica, magnesium stearate. Coating: vegetablefood glaze.
Suggested Usage
One tablet daily, preferably with morning or mid-day meal.
Note:
Product image may vary in look, size, quantity and/or flavor. It should only be used as a reference. Please check with the manufacturer for the most up-to-date product information. Although we try very hard to keep the product information up-to-date, occasionally, the manufacturer changes the name and the packaging of a product without notice.