L-Glutamine
by Now Foods
1000 mg, 120 Capsules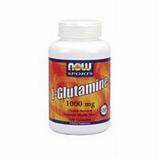 Regular Retail: $17.99
Our low price: $10.34
, 2 for
$20.14
, 6 for
$56.64
All Products by
Now Foods
Item #: NOW000941
UPC: 733739000941
Description
Glutamine
has recently been the focus of much scientific interest. A growing body of evidence suggests that during certain stressful times, the body may require more glutamine than it can produce. Under these circumstances Glutamine may be considered a "conditionally essential" amino acid. Glutamine is involved in maintaining a positive nitrogen balance (an anabolic state) and also aids rapidly growing cells (immune system hymphocytes and intestinal cell enterocytes). In addition, Glutamine is a regulator of acid-base balance and a nitrogen transporter.*
Ingredients
Supplemental Facts
Serving Size: 1 Capsule
Servings Per Container: 120
L-Glutamine (Free-Form) 1.0 g (1000 mg) *
* Percent Daily Values are based on 2,000 calorie diet.
Daily Value not established.
Other Ingredients: Gelatin (capsule), Stearic Acid, Magnesium Stearate and Silica.
Warnings: Caution: Please discard the inedible freshness packet enclosed.
Suggested Usage
As a dietary supplement, take 1 capsule 1-3 times daily, preferably between meals.
Additional Information
FAQ
What is Glutamine?
Glutamine is a non-essential amino acid; non-essential because it can be made in the body from another amino acid (AA) in the diet called Glutamic Acid. It is more appropriately considered a "conditionally essential amino acid" since some people may benefit by supplementation. Glutamine is the most abundant AA in human plasma and muscle.
What are the functional properties of Glutamine?
Glutamine is unique in that, along with glucose, it is one of the preferred energy sources utilized by rapidly growing cells. It is a major fuel source for the brain and - together with the stimulating neurotransmitter Glutamic acid and the inhibitory neurotransmitter GABA - they form the most abundant amino group in the human brain. Neurotransmitters are chemicals used by nerve cells to communicate with each other.
Glutamine also supports intestinal cells' health and normal function. It has been used clinically to improve nitrogen balance and minimize protein loss in those suffering with catabolic states (muscle breakdown) caused by surgical stress and gastrointestinal illness. In combination with N-Acetyl Cysteine, Glutamine promotes the production of a powerful cellular antioxidant called Glutathione that plays a critical role in the defense against free radical damage.
Will Glutamine help me with my health maintenance and exercise program?
Glutamine plays a major role in DNA synthesis and serves as a primary transporter of nitrogen into the muscle tissues. It serves to replenish nitrogen loss due to excessive muscle training and speeds up recovery. It is so vital to the building and maintenance of muscle tissue that 60% of the human intracellular amino acid pool is Glutamine. The very fact that muscle is the most important tissue for Glutamine synthesis and storage is evidence of Glutamine's vital role in maintaining positive nitrogen balance and building these important support structures.
Glutamine is utilized at a high rate by the cells of the immune system. It is also necessary for the production of hormone-like proteins secreted by immune cells that regulate the intensity and duration of an immune response to foreign organisms.
Note:
Product image may vary in look, size, quantity and/or flavor. It should only be used as a reference. Please check with the manufacturer for the most up-to-date product information. Although we try very hard to keep the product information up-to-date, occasionally, the manufacturer changes the name and the packaging of a product without notice.