Natural Calm Plus Calcium
by Natural Vitality
8 oz.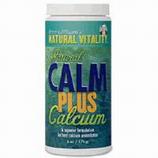 Regular Retail: $24.95
Our low price: $14.38
, 2 for
$28.00
, 6 for
$78.75
All Products by
Natural Vitality
Item #: VBD032771
UPC: 183405000971
Description
Natural Calm Plus Calcium
: The hidden cause of calcium deficiency is not a lack of calcium. It is a lack of magnesium. Without magnesium, calcium can't be utilized.
The Calcium and Magnesium Relationship:
Calcium is an important nutrient essential to maintaining total body health. Your body needs it every dayŚnot just to keep your bones and teeth strong, but to ensure proper functioning of muscles and nerves. It even helps your blood to clot.
Calcium acts to excite nerves and is necessary for muscle contraction. Magnesium, on the other hand, calms nerves and is needed for muscle relaxation. High calcium makes bones stiff and hard, which is good, but in soft tissues it becomes a problem of calcification. This stiffness in artery and heart cells can hamper proper function and can be a factor in heart disease.
Calcium requires magnesium in order to be utilized at all. Calcium should never be taken on its own because it will pull magnesium out of body parts to make up for the magnesium it needs for assimilation.
By taking calcium alone, not only will you not get the calcium your body requires but you will deplete your body's magnesium supply. Magnesium is necessary for over 350 different biochemical processes, such as digestion, energy production and the metabolism of proteins, fats and carbohydrates. It is also needed for bone strength, muscle strength and proper functioning of the heart and nervous system. While calcium requires magnesium, magnesium does not require calcium and can be safely and beneficially taken on its own.
Natural Calm Plus Calcium contains added nutrients to ensure that the calcium is absorbed and utilized. It is the most advanced formula available for the assimilation of calcium. This is particularly important as calcium will not be efficiently assimilated by the body without these other nutrients being present.
In addition to calcium, the product contains magnesium (Natural Calm), vitamin C, vitamin D and boron, which assist in the assimilation, utilization and distribution of the calcium within the body. This results in the creation of strong bones, joints and connective tissue, and a healthy, active immune system to protect against invasion of bacteria, viruses and other uninvited guests. Natural Calm Plus Calcium also includes potassium, which is vital for a healthy heart, nerve function and energy production.
This product is ideal for men and women of all ages and in particular for seniors, as it helps in the reversal of bone loss, joint, cartilage and connective tissue deterioration, and malfunction of the various glands and their emission of hormones.
Ingredients
Eacg tbs contains:
Magnesium (Magnesium Citrate): 319 mg
Calcium (Calcium Gluconate): 118 mg
Potassium (Potassium Ascorbate): 171 mg
Vitamin C (Sodium Ascorbate): 36 mg
Suggested Usage
Dissolve 1-3 teaspoons in hot water add cold water and drink.
Note:
Product image may vary in look, size, quantity and/or flavor. It should only be used as a reference. Please check with the manufacturer for the most up-to-date product information. Although we try very hard to keep the product information up-to-date, occasionally, the manufacturer changes the name and the packaging of a product without notice.