Anabolic Muscle, Vanilla
by Healthy 'N Fit
3.5 lbs Powder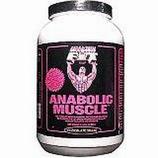 Regular Retail: $32.95
Our low price: $25.69
, 2 for
$50.04
, 6 for
$140.74
All Products by
Healthy 'N Fit
Item #: VBD024936
UPC: 799750000155
Description
Anabolic Muscle
is a new generation of muscle gainer, loaded with amino acids and power nutrients. It's way to use, tastes great and is a formulation which produces maximum results, not hype or empty calories.
Anabolic Amino Acids is critical in human life an is particularly involved in stress; energy and muscle metabolism.
Ingredients
4 Scoops Contain:
Vitamin A 0 8%
Vitamin C 0 N/A*
Thiamine 0 39%
Riboflavin 0 104%
Niacin 0 3%
Calcium 0 173%
Iron 0 N/A*
Vitamin D 0 N/A*
Vitamin B6 0 19%
Phosphorus 0 101%
Vitamin B12 0 131%
Pantothenic Acid 0 47%
Potassium 2059 Mg N/A*
Boron 3000 Mcg N/A*
Vanadyl Sulfate 3000 Mcg N/A*
Chromium Picolinate 200 Mcg N/A*
Chromium Polynicotinate 200 Mcg N/A*
* Daily value not established
Other Ingredients:
Healthy ''N Fit highest quality protein, free form, peptide bond and branched chain amino acids blend consisting of whey protein concentrate, calcium caseinate, 100% pure extracted egg albumen (no fat or cholesterol), l-alanine, l-arginine, l-aspartic acid, l-cystine, l-glutamic acid, l-glycine, l-histidine, l-isoleucine, l-leucine, l-lysine, l-methionine, l-phenylalanine, l-proline, l-serine, l-threonine, l-tryptophan, l-tyrosine, l-valine-all amino acids are derived from the enzymatic digest of whey protein (lactalbumin), 100% pure extracted egg albumen and 100% ion exchange whey amino acids. Anabolic Muscle contains over 80,000 mgs. of protein, free form, peptide bond and branched chain amino acids per serving, all of which are derived from natural sources. 100% pure fruit sugar (protein sparing crystalline fructose), New Tech glucose polymers, 5000 mgs. perserving proprietary base of Healthy ''N Fit Advanced Anabolics synergistically combined containing smilax officinalis, yohimbe bark, mexican wild yam, muyrapuama, saw palmetto, capsicum, alfalfa, dandelion root, licorice root, naturally derived sterols, orchic, liver, thymus, heart, pituitary, adrenal, kidney, pancreas, prostate, hypothalamus, gamma oryzanol, transferulic acid, inosine, pyridoxine alpha ketoglutarate, bee pollen, royal jelly, unsaturated fatty acids, rna-dna, ketoisocaproate, l-glutamine, l-ornithine, alpha ketoglutarate, potassium bicarbonate, magnesium alpha ketoglutarate, potassium alpha ketoglutarate, l-carnitine, carnosine, lipoic acid, dibencozide, coq10; boron, vanadyl sulfate, creatine, chromium polynicotinate, chromium picolinate, vanilla flavor if vanilla, chocolate flavor, cocoa and stevia herb if chocolate, strawberry flavor if strawberry, papain, bromelain, lactase. Typical analysis of amino acids in 227 grams of anabolic muscle: L-alanine 3412 mgs., L-arginine 2899 mgs., L-aspartic acid 7847 mgs., L-cystine 1439 mgs., L-glutamic acid 17613 mgs., L-glycine 2050 mgs., L-histidine 2306 mgs., L-isoleucine 5142 mgs., L-leucine 8610 mgs., L-lysine 7682 mgs., L-methionine 2018 mgs., L-phenylalanine 3646 mgs., L-proline 7661 mgs., L-serine 5271 mgs., L-threonine 4036 mgs., L-tryptophan 1419 mgs., L-tyrosine 3648 mgs. L-valine 5632 mgs.
Does Not Contain:
Synthetic amino acids, added salt or sucrose, artificial sweeteners
Suggested Usage
Combine two heaping scoops of Anabolic Muscle powder with 16 oz. regular milk, lowfat milk, water or juice. It mixes instantly for a delicious shake. This half serving should be taken twice daily for maximum results, preferably between meals as a snack. Do not reduce your regular food intake. If you desire, you can crush ice in a blender for a frosty shake and even add items such as bananas, etc. to further increase the caloric content. Remember that your training should be progressive while being careful not to overtrain, keep a positive mental attitude and success will be yours.
Note:
Product image may vary in look, size, quantity and/or flavor. It should only be used as a reference. Please check with the manufacturer for the most up-to-date product information. Although we try very hard to keep the product information up-to-date, occasionally, the manufacturer changes the name and the packaging of a product without notice.