More Than A Multiple
by American Health
90 Duotabs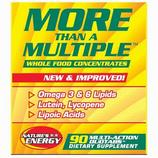 Regular Retail: $25.99
Our low price: $16.91
, 2 for
$32.93
, 6 for
$92.61
All Products by
American Health
Item #: VBD029623
UPC: 076630075503
Description
MORE THAN A MULTIPLE
has been redefined to include even more key ingredients, including Omega-3 and Omega-6 fatty acids, which are essential for health.** New & Improved More than a Multiple™ boasts a unique formula of more than 50 vitamins, minerals, amino acids and energy-rich whole food concentrates to promote overall well-being in your body.
Ingredients
Supplement Facts
Serving Size 3 Duotabs
Servings Per Container 30
Amount Per Serving %Daily Value
Vitamin A 10,000 IU 200%
(as Beta-Carotene and Alpha-Carotene)
Vitamin C 500 mg 833%
(as Ascorbic Acid, Esterified Ascorbate and Ascorbyl Palmitate)
Vitamin D (as Cholecalciferol) 400 IU 100%
Vitamin E 200 IU 667%
(as d-Alpha Tocopheryl Acid Succinate and Isomer E)
Thiamin (Vitamin B-1) 37.5 mg 2,500%
(as Thiamin Mononitrate and Thiamin Cocarboxylase)
Riboflavin (Vitamin B-2) 37.5 mg 2,206%
(as Riboflavin 5' Phosphate)
Niacin 37.5 mg 188%
(as Niacinamide and Inositol Hexaniacinate)
Vitamin B-6 37.5 mg 1,875%
(as Pyridoxine Hydrochloride)
Folic Acid 400 mcg 100%
Vitamin B-12 (as Cyanocobalamin) 37.5 mcg 625%
Biotin (as D-Biotin) 400 mcg 133%
Pantothenic Acid 37.5 mg 375%
(as D-Calcium Pantothenate)
Calcium 500 mg 50%
(as Calcium Carbonate, Calcium Citrate, Calcium Fumarate,
Calcium Ketoglutarate, Calcium Gluconate, Calcium Aspartate,
Calcium Ascorbate, Calcium Histidinate, Calcium Malate and
Calcium Succinate)
Iron 15 mg 83%
(as Ferrous Fumarate, Ferrous Amino Acid Chelate,Ferrous
Ketoglutarate, Ferrous Bisglycinate, Ferrous Gluconate,
Ferrous Aspartate, Ferrous Ascorbate, Ferrous Citrate,
Ferrous Histidinate, Ferrous Malate, and Ferrous Succinate)
Iodine (from Kelp) 75 mcg 50%
Magnesium 250 mg 63%
(as Magnesium Oxide, Magnesium Citrate, Magnesium
Fumarate, Magnesium Ketoglutarate, Magnesium
Gluconate, Magnesium Aspartate, Magnesium
Ascorbate, Magnesium Histidinate, Magnesium Malate,
and Magnesium Succinate)
Zinc 25 mg 167%
(as Zinc Citrate, Zinc Fumarate, Zinc Picolinate, Zinc Ketoglutarate,
Zinc Monomethionine, Zinc Gluconate, Zinc Aspartate, Zinc
Ascorbate, Zinc Histidinate, Zinc Malate, and Zinc Succinate)
Selenium (as Selenomethionate) 50 mcg 71%
Copper (as Copper Gluconate) 1 mg 50%
Manganese 5 mg 250%
(as Manganese Gluconate, Manganese Amino Acid Chelate,
Manganese Citrate, Manganese Aspartate, Manganese
Ascorbate, Manganese Histidinate, and Manganese Malate)
Chromium (as Chromium Picolinate) 50 mcg 42%
Potassium 49.5 mg 1%
(as Potassium Citrate, Potassium Ketoglutarate, Potassium
Fumarate, Potassium Gluconate, Potassium Aspartate,
Potassium Ascorbate, Potassium Histidinate, Potassium
Malate, and Potassium Succinate)
Boron Complex 1 mg *
(as Boron Aspartate, Boron Citrate and Boron Ascorbate)
Pancreatin 8.25 mg *
Methionine 18.75 mg *
Inositol 37.5 mg *
PABA (Para-Aminobenzoic Acid) 37.5 mg *
Choline (as Choline Bitartrate) 37.5 mg *
Rutin 25 mg *
Citrus Bioflavonoids (Citrus limon) (fruit)150mg *
Hesperidin (Citrus limon) (fruit) 25 mg *
Betaine Hydrochloride 25 mg *
Bromelain 8.25 mg *
Papain 8.25 mg *
Eleuthero Siberian Root 25 mg *
(Eleutherococcus senticosus) (root)
N-Acetyl-Cysteine 15 mg *
L-Glutamine 10 mg *
Taurine 5 mg *
Acidophilus 12.5 mg *
(Lactobacillus, L-Bulgaricus, and L-Bifidus)
Coenzyme Q-10 3 mg *
Bee Pollen 16.5 mg *
Spirulina/Chlorella (Chlorophyllins) 30 mg *
Bee Propolis 16.5 mg *
L-Glutathionine 10 mg *
Wheat Grass/Barley Grass 30 mg *
(Chlorophyllins)
Omega 3 and Omega 6 Lipids 600 mg *
Royal Jelly 3 mg *
Licorice Extract (Glycyrrhizin) 12.5 mg *
(Glycyrrhiza glabra) (root)
Bilberry
Note:
Product image may vary in look, size, quantity and/or flavor. It should only be used as a reference. Please check with the manufacturer for the most up-to-date product information. Although we try very hard to keep the product information up-to-date, occasionally, the manufacturer changes the name and the packaging of a product without notice.