Women's More Than A Multiple
by American Health
90 Tablets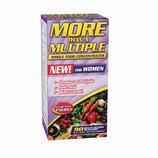 Regular Retail: $25.99
Our low price: $16.93
, 2 for
$32.97
, 6 for
$92.74
All Products by
American Health
Item #: VBD024167
UPC: 076630148658
Description
Women's More Than A Multiple
is a comprehensive dietary supplement that offers MORE of the nutrients you need every day, including vitamins, minerals, enzyme factors, metabolites, amino acids, and herbs... with super antioxidants and active phytonutrients from energy-rich whole food concentrates.
Ingredients
Nutritional Facts
Serving Size: 3 Duotabs
Servings per Container: 30
Amount Per Serving % Daily Value*
Vitamin A (as Beta Carotene and Alpha Carotene) 10,000 IU 200%
Vitamin C (as Ascorbic Acid, Esterified Ascorbate and Ascorbyl Palmitate) 500 mg 833%
Vitamin D (as Cholecalciferol) 400 IU 100%
Vitamin E (as d-Alpha Tocopheryl Acid Succinate and Isomer E) 200 IU 667%
Thiamin (Vitamin B1 as Thiamn Mononitrate and Thiamin Cocarboxylase) 37.5 mg 2,500%
Riboflavin (Vitamin B2) 37.5 mg 2,206%
Niacin (as Niacinamide and Inositol Hexaniacinate) 37.5 mg 188%
Vitamin B6 (as Pyridoxine Hydrochloride) 75 mg 3,750%
Folic Acid 400 mcg 100%
Vitamin B12 (as Cyanocobalamin) 37.5 mcg 625%
Biotin (as d-Biotin) 400 mcg 133%
Pantothenic Acid (as d-Calcium Pantothenate) 37.5 mg 375%
Calcium (as Calcium Carbonate, Calcium Citrate, Calcium Fumarate, Calcium
Ketuglutarate, Calcium Gluconate, Calcium Aspartate, Calcium Ascorbate, Calcium
Histidinate, Calcium Malate and Calcium Succinate) 500 mg 50%
Iron (as Ferrous Fumarate, Ferrous Amino Acid Chelate, Ferrous Ketoglutarate,
Ferrous Bisglycinate, Ferrous Gluconate, Ferrous Aspartate, Ferrous Ascorbate,
Ferrous Citrate, Ferrous Histidinate, Ferrous Malate, and Ferrous Succinate) 18 mg 100%
Iodine (from Kelp) 75 mcg 50%
Magnesium (as Magnesium Oxide, Magnesium Citrate, Magnesium Fumarate,
Magnesium Ketoglutarate, Magnesium Gluconate, Magnesium Aspartate, Magnesium
Ascorbate, Magnesium Histidinate, Magnesium Malate and Magnesium Succinate) 250 mg 63%
Zinc (as Zinc Citrate, Zinc Fumarate, Zinc Picolinate, Zinc Ketoglutarate, Zinc
Monomethenomine, Zinc Gluconate, Zinc Aspartate, Zinc Ascorbate, Zinc Histidinate,
Zinc Malate, and Zinc Succinate) 25 mg 167%
Selenium (as Selenomethionine) 50 mcg 71%
Copper (as Copper Gluconate) 1 mg 50%
Manganese (as Manganese Gluconate, Manganese Amino Acid Chelate, Manganese
Citrate, Manganese Aspartate, Manganese Ascorbate, Manganese Histidinate and
Manganese Malate) 5 mg 250%
Chromium (as Chromium Picolinate) 50 mcg 42%
Potassium (as Potassium Citrate, Potassium Ketoglutarate, Potassium Fumarate,
Potassium Gluconate, Potassium Aspartate, Potassium Ascorbate, Potassium
Histidinate, Potassium Malate and Potassium Succinate) 49.5 mg 1%
Boron Complex (as Boron Aspartate, Boron Citrate, and Boron Ascorbate) 1 mg **
Pancreatin 8.25 mg **
Methionine 18.75 mg **
Inositol 37.5 mg **
PABA (Para-Aminobenzoic Acid) 37.5 mg **
Choline (as Choline Bitartrate) 37.5 mg **
Rutin 25 mg **
Citrus Bioflavonoids (Citrus Limon) (fruit) 150 mg **
Hesperidin (Citrus Limon) (fruit) 25 mg **
Betaine Hydrochloride 25 mg **
Bromelain 8.25 mg **
Papain 8.25 mg **
Eleuthero Siberian Root (Eleutherococcus Senticosus) (root) 25 mg **
N-Acetyl-Cysteine 15 mg **
L-Glutamine 5 mg **
Taurine 5 mg **
Acidophilus (Lactobacillus, Bulgaricus, and Bifidus) 12.5 mg **
Coenzyme Q-10 3 mg **
Bee Pollen 16.5 mg **
Spirulina / Chlorella 30 mg **
Bee Propolis 16.5 mg **
L-Gluthionine 10 mg **
Wheat Grass / Barley Grass (Chlorophyllins) 30 mg **
Omega 3 and Omega 6 Lipids 600 mg **
Royal Jelly 3 mg **
Licorice Extract (Glycyrrhizin) (Glycyrrhiza Glabra) (root) 12.5 mg **
Bilberry Extract (Anthocyanins) (Vaccinium Myrtillus) (fruit) 12.5 mg **
Pycnogenol (as Proanthocyanidins) 5 mg **
Echinacea / Golden Seal 30 mg **

Note:
Product image may vary in look, size, quantity and/or flavor. It should only be used as a reference. Please check with the manufacturer for the most up-to-date product information. Although we try very hard to keep the product information up-to-date, occasionally, the manufacturer changes the name and the packaging of a product without notice.