More Than A Greens Powder
by American Health
9.24 oz.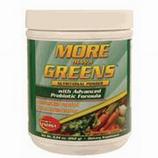 Regular Retail: $38.99
Our low price: $28.28
, 2 for
$55.08
, 6 for
$154.92
All Products by
American Health
Item #: VBD043028
UPC: 076630052252
Description
More Than A Greens Powder
:
MORE THAN A GREENS POWDER WITH ADVANCED PROBIOTIC
Need a way to fill in the nutritional gaps of your diet? American Health® offers a comprehensive line of supplements in a variety of formulations and delivery systems, from single nutrient products to powerful synergistic blends, in your choice of tablet, softgel and powder forms.

American Healt's flagship MORE THAN A MULTIPLE™ represents one of the finest quality of mega-potency multivitamins you can buy. It has more than 50 vitamins, minerals, antioxidants and energy-rich whole food concentrates especially formulated for adults over 40, containing almost twice the amount of Calcium for strong bones, 2/3 more Zinc for memory, and 50% more B-1 & B-2 Vitamins for the stress of everyday living than other leading brands – plus, an exclusive timed-release delivery system for up to 8 hours of nutritional support! NUTRA-MEGA® super-potency multivitamin/multimineral softgels help support immune, cardiovascular and nervous system health, and has the added benefits of Garlic Oil, Bee Pollen and more. CALCIUM, MAGNESIUM AND ZINC offers a triple dose of important minerals; Calcium and Magnesium promote healthy bones and support muscle contractions, while Zinc is essential for the immune system, cell division and growth. For a body-ready form of Vitamin E, look to ESTER-E® to support daily heart, immune system and antioxidant wellness.
Ingredients
3 tablets contain:
Vitamin A (as Beta Carotene) 10,000 I.U. 200% Vitamin C (as Ascorbic Acid) 500 mg 833% Vitamin D (as Cholecalciferol) 400 I.U. 100% Vitamin E 200 I.U. 667% (as d-Alpha Tocopheryl Acid Succinate) Thiamin 37.5 mg 2,500% (Vitamin B-1) (as Thiamine Mononitrate) Riboflavin (Vitamin B-2) 37.5 mg 2,206% Niacin (as Niacinamide) 37.5 mg 188% Vitamin B-6 37.5 mg 1,875% (as Pyridoxine Hydrochloride) Folic Acid 200 mcg 50% Vitamin B-12 (as Cyanocobalamin) 37.5 mcg 625% Biotin (as D-Biotin) 37.5 mcg 13% Pantothenic Acid 37.5 mg 375% (as D-Calcium Pantothenate) Calcium 500 mg 50% (as Calcium Carbonate, Calcium Citrate, Calcium Fumarate, Calcium Ketoglutarate, Calcium Gluconate, Calcium Aspartate, Calcium Ascorbate, Calcium Histidinate, Calcium Malate and Calcium Succinate) Iron 15 mg 83% (as Ferrous Fumarate, Ferrous Amino Acid Chelate, Ferrous Ketoglutarate, Ferrous Bisglycinate, Ferrous Gluconate, Ferrous Aspartate, Ferrous Ascorbate, Ferrous Citrate, Ferrous Histidinate, Ferrous Malate, and Ferrous Succinate) Iodine (from Kelp) 75 mcg 50% Magnesium 250 mg 63% (as Magnesium Oxide, Magnesium Citrate, Magnesium Fumarate, Magnesium Ketoglutarate, Magnesium Gluconate, Magnesium Aspartate, Magnesium Ascorbate, Magnesium Histidinate, Magnesium Malate, and Magnesium Succinate) Zinc 15 mg 100% (as Zinc Citrate, Zinc Fumarate, Zinc Picolinate, Zinc Ketoglutarate, Zinc Monomethenomine, Zinc Gluconate, Zinc Aspartate, Zinc Ascorbate, Zinc Histidinate, Zinc Malate, and Zinc Succinate) Selenium (as Selenomethionine) 50 mcg 71% Copper (as Copper Gluconate) 1 mg 50% Manganese 5 mg 250% (as Manganese Gluconate, Manganese Amino Acid Chelate, Manganese Citrate, Manganese Aspartate, Manganese Ascorbate, Manganese Histidinate, and Manganese Malate) Chromium 50 mcg 42% (as Chromium Picolinate) Potassium 49.5 mg 1% (as Potassium Citrate, Potassium Ketoglutarate, Potassium Fumarate, Potassium Gluconate, Potassium Aspartate, Potassium Ascorbate, Potassium Histidinate, Potassium Malate, and Potassium Succinate) Boron Complex 1 mg * (as Boron Aspartate, Boron Citrate and Boron Ascorbate) Pancreatin 16.5 mg * Methionine 37.5 mg * Inositol 37.5 mg * PABA (Para-Aminobenzoic Acid) 37.5 mg * Choline (as Choline Bitartrate) 37.5 mg * Rutin 25 mg * Citrus Bioflavonoids 150 mg * Hesperidin 25 mg * Betaine Hydrochloride 50 mg * Bromelain 16.5 mg * Papain 16.5 mg * Siberian Ginseng 50 mg * (Eleutherococcus senticosus) (root)

Note:
Product image may vary in look, size, quantity and/or flavor. It should only be used as a reference. Please check with the manufacturer for the most up-to-date product information. Although we try very hard to keep the product information up-to-date, occasionally, the manufacturer changes the name and the packaging of a product without notice.
Reviews / Comments
notes · articles · reviews
Share your thought and comments. Be the first to write a review.