Super Nutri Pack 30 Days
by Healthy 'N Fit
30 Day Supply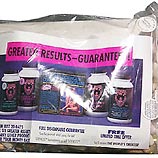 Regular Retail: $36.42
Our low price: $27.59
, 2 for
$53.74
, 6 for
$151.14
All Products by
Healthy 'N Fit
Item #: VBD024943
UPC: 799750000438
Description
Super Nutri Pack
: 26 Vitamins & Minerals Mega Potency Pack, Free form amino acids. Fat metabolizing nutrients. Natural energy stimulants. Many so-called "Super" Pack Potencies are only 1/2 of potency listed. They state in small print, Each 2 Packs supply potency listed. This product lists a non- misleading true potency. The quality and potency of this product has been laboratory assayed and tested. This product is formulated to increase muscle mass and strengthen combination with intense training. Brownish spotting of the lighter color tablets in a natural, high potency quality vitamin pack, where tablets are in close proximity is quite normal, and in no way effects the products freshness or quality. 30 packets (390 tablets & softgels).
Ingredients
Super Nutri Pak: B Complex Vitamins Two Timed release Vitamin B-Complex: Vitamin B-1…200mg…13332%, Vitamin B-2…200mg…11764%, Vitamin B-6…200…10000%, Vitamin B-12…200mcg…3332%, Niacinamide…200mg…1000%, Folic Acid…200mcg…50%, Pantothenic Acid…200mg…2000%, Biotin…200mcg…68%, Para-Aminobenzoic Acid (PABA)…200mg**, Vitamin C Two Timed - Release Vitamin C: Vitamin C with Selected Rose Hips…3000mg…5000%, Vitamins A & D One Capsule (recommended reduced dosage of fat soluble Vitamins A & D): Vitamin A…10000iu…250%, Vitamin D…400iu…100%, 100% Natural Vitamin E: Vitamin E: D-Alpha Tocopheryl…600iu…2000%, Fat Metabolizing Nutrients Synergistically Combined with B complex Tabs: Choline…200mg**, Inositol…200mg**, Natural Energy Stimulants: 100% Pure Bee Pollen…1000mg**, Triple Potency Chelated Minerals: Calcium…1000mg…100%, Magnesium…500mg…125%, Phosphorus…100mg…10%, Potassium…99mg**, Manganese…40mg**, Iron…30mg…166%, Zinc…30mg…200%, Copper…1mg…50%, Iodine…225mcg…100%, Chromium…200mcg**, Selenium…25mcg**, Betaine Hydrochloride…25mg**, Free Form Amino Acids Pharmaceutical Grade Free Form & Peptide Bond Amino Acids L-Configuration in Correct Proportions to Promote Anabolic Activity: These Amino Acids are a Pancreatic Digest of Casein and Egg Albumen-the Highest Quality and Most Effective Free Form & Peptide Bond Amino Acid Source Known: L-Alanine…113.7mg**, L-Arginine…121.8mg**, L-Aspartic Acid…247.7mg**, L-Cystine…10.1mg**, L-Glutamic Acid…710.8mg**, L-Glycine…77.1mg**L-Histidine…93.4mg**, L-Isoleucine…182.7mg**, L-Leucine…312.9mg**, L-Lysine…264mg**, L-Methionine…93.4mg**, L-Phenylalanine…146.2mg**, L-Proline…333mg**, L-Serine…194.9mg**, L-Thyeonine…142.1mg**, L-Tryptophane…32.4mg**, L-Tyrosine…40.6mg**, L-Valine…227.4mg**, %U.S.RDA, *U.S.Recommended Daily Allowance for adults and children 12 or more years of age., ** NoU.S.RDA has been established. Does not contain Sugar, Starch, Salt, Waxes, Artificial Colors, Flavors, Yeast, Preservatives.
Suggested Usage
One packet daily as a dietary supplement. If you prefer, the water soluble B Vitamins, Fat Burners & Vitamin C can be split up. Take one of each in the morning and repeat after workout or in the evening. Swallow tablets with liquid. Chewing Amino Acids or allowing them to lay in your mouth may leave a bitter taste. This is a natural product - appearance may vary. Keep out of reach of children.
Note:
Product image may vary in look, size, quantity and/or flavor. It should only be used as a reference. Please check with the manufacturer for the most up-to-date product information. Although we try very hard to keep the product information up-to-date, occasionally, the manufacturer changes the name and the packaging of a product without notice.