Organic Green Tea with Lemongrass
by Long Life Herbal Teas
20 Tea Bags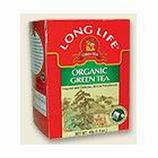 Regular Retail: $4.19
Our low price: $3.53
, 6 for
$20.29
All Products by
Long Life Herbal Teas
Item #: VBD027382
UPC: 019067100257


Out Of Stock.
Description
Green Tea with Lemongrass
is a rejuvenating tea rich in catechin and polyphenols, which have powerful antioxidant and detoxification activity, and may be beneficial for the treatment or prevention of cancer, heart disease, for collagen formation, arteriosclerosis, cholesterol and triglyceride levels, high blood pressure, gingivitis (periodontal disease), immune response, and infection. Long Life Black Teas. Organic Teas. Organic Japanese Green Tea and Lemongrass. Mellow, soothing & fragrant. 20 individually wrapped, non-bleached tea bags.
Japanese Green Tea & Lemongrass is enchanting & has many mystical qualities! Certified Organic Japanese Green Tea! Japanese Green Tea & Lemongrass is very tasty! This special tea will soothe you & make you a happy soul! Resalable lock tab. You wont lose flavor. It will also refresh and invigorate! Unlike other teas Long Life Herbal Teas are not simply measured and mixed but rather are handcrafted. Handcrafting requires extraordinary care. Each time a new crop is harvested, the entire formula must be adjusted to guarantee its effect, unique taste, consistency and flavor. Each crop of herbs vary due to seasonal conditions and length of growing season. Handcrafting ensures a precise blending which promotes health and harmony. Each blend is prepared using the Standard of Old World herbalists, passed down from generation to generation ensuring it's goodness and effectiveness. Long Life Herbal Tea was developed over 400 years ago by the Royal Physicians at the request of the Emperor of the Ming Dynasty. The Emperor was very specific - his tea must provide pleasure and health, have an attractive appearance and a pleasant aroma. The Emperor instructed that these four characteristics must be met. Today all Long Life Teas follow these same principles. Each Long Life blend follows the philosophy of Chinese Herbal Medicine bringing balance and harmony. We proudly present 400 years of heritage in every cup of Long Life Tea.
Ingredients
Organic Green Tea, Organic Lemongrass, Organic Lemon Peel.
Suggested Usage
For Herbal and black teas, bring fresh cold spring water to a rolling boil. For green tea, heat just until steam develops but not to a boil. Pour 1 cup water over each tea bag and allow to steep 3 to 5 minutes. The longer it steeps the better it tastes. Relax, enjoy the developing aroma and color, anticipate the pleasure of a perfect cup of tea.
Customize your tea - because herbs extract at different rates you can increase sweetness or intensity simply by steeping longer.
Decaffeinate your green and black tea naturally! Pour hot water over tea and allow to steep for 30 seconds. Discard this water, add more hot water to complete the brewing process - steeping an additional 3 - 4 minutes. This will reduce the caffeine by 80%.
Note:
Product image may vary in look, size, quantity and/or flavor. It should only be used as a reference. Please check with the manufacturer for the most up-to-date product information. Although we try very hard to keep the product information up-to-date, occasionally, the manufacturer changes the name and the packaging of a product without notice.